General Hospital Spoilers: Nelle Will Soon Go Out With A Bang!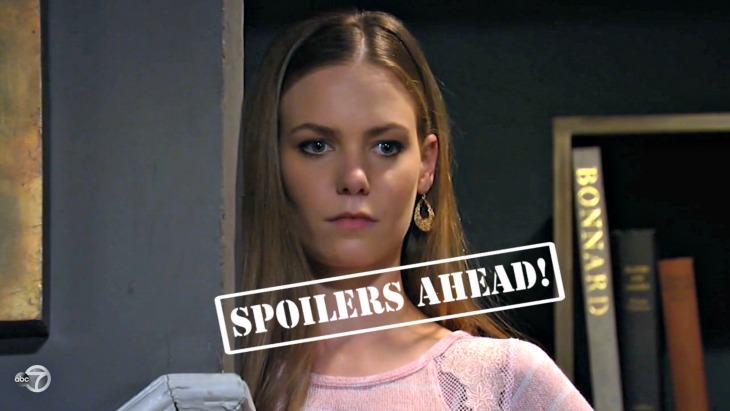 General Hospital spoilers tease that Nelle might be going out with a bang. Now that actress Chloe Lanier has announced that she is leaving the soap to pursue other opportunities in the entertainment industry, everyone can't help but wonder what will happen to her mischievous character, Nelle.
If there is one person who has managed to make everyone's lives hell lately, it's Nelle. After all, she is the reason why Carly (Laura Wright) is locked up at Ferncliff right now.
That's because she's done everything in her power to erase Carly from the picture, just so she could have Michael (Chad Duell) to herself. But little does Nelle know that Michael has his own plans, and that Nelle won't like what she's about to see or hear.
In fact, Chloe recently told ABC Soaps in Depth in a new interview, "It's been interesting to see Chad make this shift, because I know him so well. It's really creepy, actually! Sometimes he'll be looking at me, and it's like, 'Oh My God,' you're terrifying!' He keeps saying, 'I hope they keep me like this. This would be great' – and it would."
Now, what Michael has in store no one knows for sure. Nelle might have gotten away with a lot of things, but the tables have definitely turned on her. With Chase on the case, and with Michael close to executing his plan, Nelle's days are numbered.
Plus, Nelle goes weak in the knees whenever she sees Chase or if he's in the same room as her. One way or another, she'll be cornered.
In the meantime, General Hospital airs weekdays on the ABC network. Check your local listings for times. Let us know what you think by leaving us a line with your thoughts in our comments section below.
And as always, don't forget to check back with Soap Opera Spy for all the latest news, updates and spoilers on General Hospital and all of your favorite daytime television shows right here!
General Hospital airs weekdays on the ABC network.
---
Read more news, spoilers, and gossip on our General Hospital homepage
Want up-to-the-minute soaps news, spoilers, and gossip on your social feeds? Just hit 'Like' on our Facebook page.