General Hospital Spoilers: Peter August's Days Are Numbered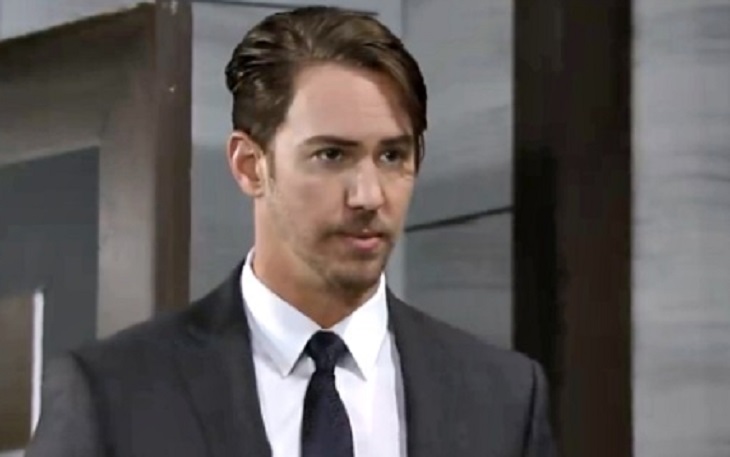 General Hospital spoilers tease that the walls will soon be closing in on Peter. As a matter of fact, Peter [Wes Ramsey] himself knows that he's close to getting caught as everyone in Port Charles will soon find out about his true identity.
Right now Peter is feeling very desperate. He's looking for reassurance wherever he can, while Anna [Finola Hughes] gets what she needs from Jordan, who is encouraging her to continue her search for Faison's son. Little do they know that he's actually closer than they think.
Related: General Hospital Spoilers: 2018 Nurses Ball Kicks Off This Week – Official Preview Video
Anna is looking to catch up with Griffin [Matt Cohen]. There's a strong possibility that he may slip and say something that might clue her in. But then again, Anna isn't the only person that Peter needs to be worried about.
There's also Jason [Steve Burton] and Spinelli [Bradford Anderson] who are on their case. If that weren't enough, Sam [Kelly Monaco] is also in as she continues to dig a little deeper in finding all the dirt they need on her CEO.
And of course, there's also Nina [Michelle Stafford]. She has a strong suspicion that something is definitely up with Peter August. He's just too friendly and nice for her liking. Curtis feels the same way, as he continues to collect dirt right beside her. But then again, Valentin [James Patrick Stuart] is opposed to the entire investigation. He knows that is wife can easily ruin everything and begs her to give it up before it's too late.
LOVE GH?  SUBSCRIBE TO OUR GENERAL HOSPITAL NEWSLETTER, HERE!
General Hospital airs weekdays on the ABC network. Drop us a line with your thoughts in our comments section below. Also, don't forget to check back with Soap Opera Spy for all the latest news, updates and spoilers on General Hospital and all of your favorite daytime television shows right here!
Read more news, spoilers, and gossip on our General Hospital homepage