General Hospital Spoilers: Sam Puts Her Love Life On Hold, Jason Gives Her Space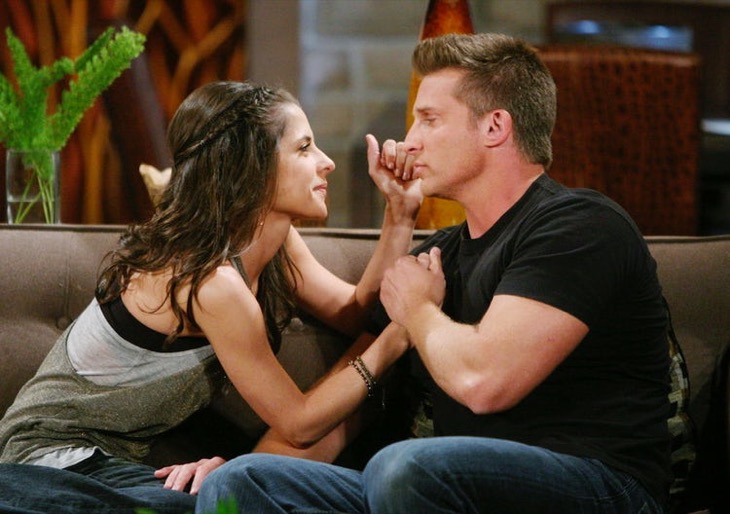 General Hospital spoilers tease that Sam (Kelly Monaco) is still feeling torn about which direction her heart should take her. Now that she is no longer with her husband Drew, (Billy Miller) it would only be natural for her to go back to the arms of Jason. (Steve Burton) But unfortunately, Sam is taking her time, as she's not sure what is the next step she needs to take in her life.
Sam is back to doing what she does best – and that's being Port Charles' sexiest private investigator. She's in her element and as result, not really worried about her love life which of course has Jason very concerned.
In fact, Steve Burton who plays Jason on the hit ABC soap, recently told Soaps in Depth, "This is his wife. As frustrating as it is, he doesn't want to put pressure on somebody he loves. That's not what love is. You want to let the person thrive, and you want to support the person you love – whether that works for you or against you."
But Sam doesn't see it the same way. She wants to crack the important cases in Port Charles and she's determined to do it. In the meantime though, Sam's determination might soon make her realize that she doesn't need to be with Drew or Jason at this point. After all, there is nothing wrong with spending a little time by yourself. And for Sam, that might be something she needs in her life right now. Fans will just have to tune in to find out what will happen next!
LOVE GH?  SUBSCRIBE TO OUR GENERAL HOSPITAL NEWSLETTER, HERE!
General Hospital airs every weekday on the ABC network. You'll have to check your local listings for times. Let us know what you think by leaving us a line with your thoughts in our comments section below. And as always, don't forget to come back to Soap Opera Spy for all the latest news, updates and spoilers on General Hospital and all of your favorite daytime television shows right here!
As always, more detailed spoilers and a full collection of pictures for the week in question will appear here on Celebrating The Soaps, where there will be more clues and hints over exactly what's going on.
General Hospital airs weekdays on the ABC network.
---
Read more news, spoilers, and gossip on our General Hospital homepage
Want up-to-the-minute soaps news, spoilers, and gossip on your social feeds? Just hit 'Like' on our Facebook page and 'Follow' on our Twitter account