General Hospital Spoilers: Secret Agendas, Shocking Arrests, Serious Accusations
General Hospital spoilers and updates for the week of Monday, May 29-Friday, June 2 tease secret agendas, shocking arrests and serious accusations! Diane Miller (Carolyn Hennesy) has a secret agenda, Anna Devane (Finola Hughes) is the subject of a shocking arrest, and Ned Quartermaine (Wally Kurth) continues being the subject of serious accusations.
General Hospital Spoilers – Encore Episode Of October 20, 2022
We should note Monday, May 29's episode is an encore episode of October 20, 2022 because of the Memorial Day holiday. Holly Sutton (Emma Samms) returned, crawling out of the water into the Quartermaine boat house, Nina Reeves (Cynthia Watros) refused an offer, and Ned and Michael Corinthos (Chad Duell) butted heads.
Victor Cassadine (Charles Shaughnessy) questioned Trina Robinson (Tabyana Ali) and Curtis Ashford (Donnell Turner) had a change of heart.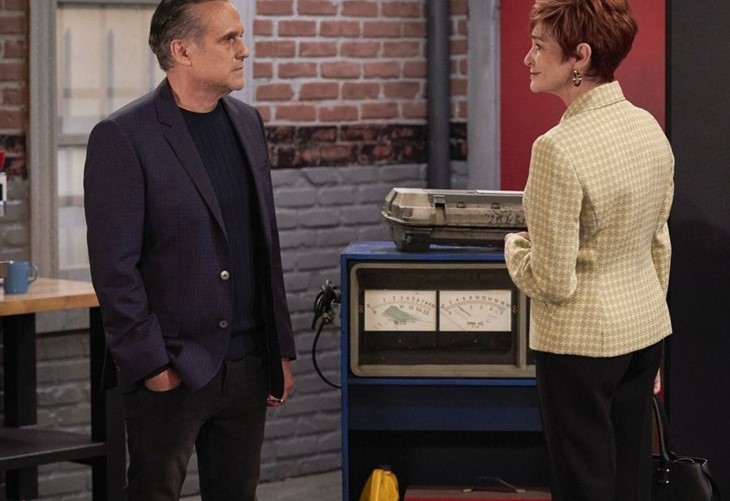 This was also Sonya Eddy's last appearance on GH as Epiphany Johnson. In this episode, she talked to Marshall Ashford (Robert Gossett) about taking her MCATS.
GH Spoilers – Private Conversations, Secret Agendas, Important Events
Tuesday, May 30 has Sonny Corinthos (Maurice Benard) having a private conversation with Carly Spencer (Laura Wright) at the hospital. Meanwhile, at The Metro Court restaurant, Diane has a secret agenda as she lunches with Robert Scorpio (Tristan Rogers).
Laura Collins (Genie Francis) hosts a special event-the reading of Victor's will. Back at the Metro Court, Nina Reeves (Cynthia Watros) slips Olivia Quartermaine (Lisa LoCicero) some information.
Drew Cain (Cameron Mathison) pays a visit to Sam McCall (Kelly Monaco) and their daughter, Scout Cain (Cosette Abinante).
General Hospital Spoilers – Reassurance, Bad Feelings, Theories
Wednesday, May 31 has Marshall reassuring Stella Henry (Vernee Watson) while at Victor's will reading, Anna gets a bad feeling. Laura develops a theory, likely concerning something Victor says on the pre-recorded message being played at the will reading.
It was noted that Victor had his attorney only send invitations to people he hated, although Spencer Cassadine (Nicholas Alexander Chavez) received one too-he wasn't sure he was going to go.
Elsewhere, Gregory Chase (Gregory Harrison) is contrite – perhaps he finally tells his sons about his serious health condition, ALS also known as Lou Gehrig's Disease and apologizes to them? Meanwhile, Josslyn Jacks (Eden McCoy) pressures her mother Carly.
GH Spoilers – Shocking Arrests, Sudden Surprises, Sad Disappointment
Thursday, June 1 finds Anna in the hot seat when she's suddenly arrested by the WSB for old crimes committed when she was a double agent. Laura is surprised by the sudden appearance of Valentin Cassadine (James Patrick Stuart) while Jordan Ashford (Tanisha Harper) is sadly disappointed.
Austin Gatlin-Holt (Roger Howarth) and Ava Jerome (Maura West) are interrupted and they are anything but happy. Meanwhile, elsewhere, Trina and Josslyn conspire, perhaps concerning something regarding Esmé Prince (Avery Kristen Pohl).
General Hospital Spoilers – Serious Accusations, Truth Bombs, Family Offers
Friday, June 2 rounds out the week with Ned getting in a public clash because of serious accusations. Curtis drops some truth bombs as he puts his cards on the table. Michael Corinthos (Chad Duell) makes a family offer to his mother, Carly Spencer.
Elsewhere, Dante Falconeri (Dominic Zamprogna) delivers words of caution to Sonny. Ava is gobsmacked, could Mason Gatlin (Nathanyael Grey) finally reveal to her and Austin he's got Nikolas Cassadine (Adam Huss) on life support?
Be sure to catch up on everything happening with GH right now. Come back here often for General Hospital spoilers, news, and updates.