General Hospital Spoilers Thursday, August 9: Alexis Furious At Franco – Bensch Terrifies Scott – Loud Crash at Corinthos Home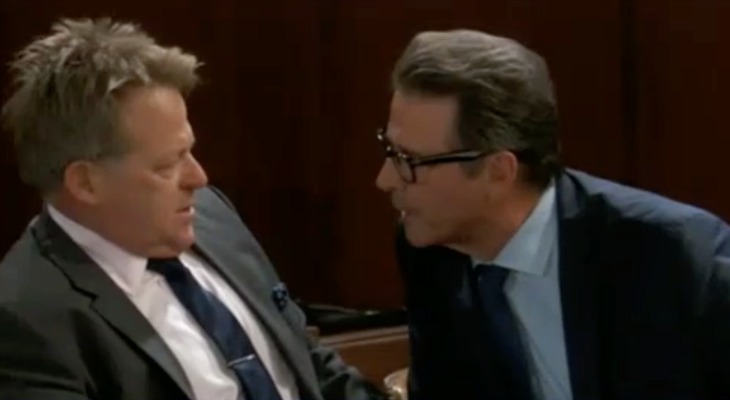 General Hospital (GH) spoilers for Thursday, August 9, 2018 reveal while one couple enjoys a private moment, another is shocked. The much anticipated trial begins with many interruptions and confrontations. GH fans will not want to miss Thurday's episode!
GH sources tease as Curtis (Donnell Turner) and Jordan Ashford (Vinessa Antoine) are enjoying some time alone in bed. Curtis suggests they should be doing this on a more regular basis. Will viewers be seeing more of this duo?
Ava Jerome (Maura West) catches Elizabeth Webber (Rebecca Herbst), before she walks into court, and asks if she can have a word with her. Elizabeth seems a little caught off guard.
With Dr. Bensch's trial about to begin, Kiki puts on a suit of armor. Ava, however… has another idea. #GH is brand-new and STARTS NOW on ABC! pic.twitter.com/qdxpiM4XGQ

— General Hospital (@GeneralHospital) August 8, 2018
General Hospital spoilers reveal the sexual harassment trial is set to start and several citizens of Port Charles are involved. Alexis Davis (Nancy Lee Grahn) demands to know what is so important that Franco Baldwin (Roger Howarth) would feel the need to interrupt her. Dr. David Bensch (James DePaiva) is on to his lawyer and confronts Scott Baldwin (Kin Shriner), demanding to know if he is purposely "throwing" his case?
Kiki Jerome (Hayley Erin) takes the stand and begins her testimony, emotionally telling everyone that Bensch cannot keep doing this as it is not right!
GH spoilers show Carly (Laura Wright) and Sonny Corinthos (Maurice Benard) talking in the living room at home, when a loud crash from the back, startles them both. Carly jumps as Sonny panics. What happens in the Corinthos' house?
Be sure to tune into ABC's General Hospital (GH) on Thursday, August 9, 2018 to catch up on all these exciting stories and so much more. Check Celebrating the Soaps often for updates, news and spoilers!
Read more news, spoilers, and gossip on our Celebrating The Soaps General Hospital homepage