General Hospital Spoilers Thursday December 14: Kim Rejects Monica's Offer – Lulu Caught -Sam & Jason Talk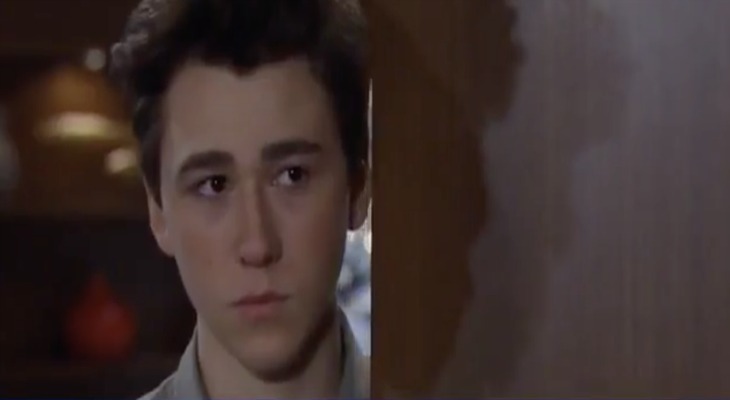 The General Hospital episode for Thursday December 14 promises plenty of action and drama. Please be sure to tune in, you don't want to miss any of the drama.
Finn Move In With Anna
Finn (Michael Easton) is now roommates with his fellow spy Anna Devane (Finola Hughes), but they seem to be having trouble adjusting to the situation. Anna is upset that Finn has decided to take Cassandra (Jessica Tuck) up on her offer to develop cheap drugs. She begs Finn to decline Cassandra's offer. Will Finn be able to convince Anna he can hold his on when it comes to dealing with Cassandra, or will Anna give in against her better judgment? ABC spoilers promise lots of adventure is ahead for these two.
Kim Rejects Monica's Offer
Monica (Leslie Charlson) is excited to learn that Drew is the father of Kim Nero's (Tamara Brawn) son Oscar (Garren Stitt). It seems the Quartermaine family is starting to grow once again and the mansion that was once empty is beginning to fill up again. ABC General hospital spoilers state Monica rolls out the welcome mat. Perhaps Monica has called Kim to the mansion to welcome her and Oscar into the family, as she and Kim come face to face Kim notifies Monica that she and Oscar will have none of it and none of you. Does Monica offer Kim and Oscar a place in the mansion and part of the Quartermaine inheritance? It's very clear Kim is not willing to accept Monica's generous offer. Why would she be so against Monica, unless she knows more than she is willing to let on about Drews (Billy Miller) birth and disappearance as an infant.
Related: General Hospital Michelle Stafford Shares Heartwarming Sentiment About Motherhood
Valentin Warns Cassandra to Stay Away From His Family
Valentin (James Patrick Stewart) has agreed to work with Cassandra as a conduit for Anna Devane to take her down. He has his limits, however. During a meeting with Cassandra, Valentine warns Cassandra that Wyndemere is off limits to her and so is his family. Will Cassandra back off? Is she trying to use Valentin's family as bait to keep him in line? Will she push Valentin too far? It is a well-known fact that Valentin will do anything to protect his family; even murder.
Lulu Discovers The Missing Ballot
Lulu (Emme Rylan) discovered the missing ballot that caused Felecia (Kristina Wagner) to lose the election a few years ago. Charlotte (Scarlett Fernandez) found it at Wyndemere and used it to write her Christmas list. Lulu is trying to secure a job at Aurora Media and needs a good investigative story to get the job. This may be her ticket; the only problem is she will need to snoop around a bit. ABC General Hospital spoilers state Nina (Michele Stafford) will catch her snooping. Lulu will have to drop Charlotte off at Wyndemere and while there she decides to snoop a bit. In the living room at Wyndemere Lulu asks herself "What is going on?" Nina tells her she was wondering the same thing. Will Lulu share with Nina her reasons for snooping? It would be a shame to ruin the little truce they have arrived at. Will Nina help?
Oscar Meets Drew
In other General Hospital spoilers, it states Oscar is disappointed. Since he found out that Drew Cain is his father, Oscar has been afraid that his dad will not accept him. Drew has decided to pay his son a visit. As Oscar opens the door Drew tells him that he is not really a stranger. Oscar seems apprehensive at best. Will these two begin to bond even though Drew does not remember his past with Oscars mom?
Sam Meets Jason
Sam (Kelly Monaco) has an encounter on the docks. ABC General Hospital spoilers state Sam runs into Jason (Steve Burton) at the pier. Will these two finally have that talk Sam has been avoiding since Jason's return? Jason considers Sam's eyes and tells her; that person is the reason he is still alive. When Jason returned he told Sonny (Maurice Benard) that once he woke up in the clinic in Russia, his every waking moment was consumed with how to escape and return to his family. Could he be talking about Sam? Will she finally be moved enough to confess her love for him?
LOVE GENERAL HOSPITAL?  SIGN UP FOR OUR GH NEWSLETTER!
Be sure to tune in to watch General Hospital on ABC on Thursday December 14 you won't want to miss any of the exciting drama.
Also, don't forget to check back with Celebrating the Soaps for all your latest news, updates, and spoilers for General Hospital along with all your other favorite daytime television soaps.
Also, don't forget to check back with Celebrating the Soaps for all your latest news, updates, and spoilers for General Hospital along with all your other favorite daytime television soaps.