General Hospital Spoilers Thursday, December 28: Cassandra Wants Sonny Dead – Drew Doubts Nelle – Jason Becoming Depressed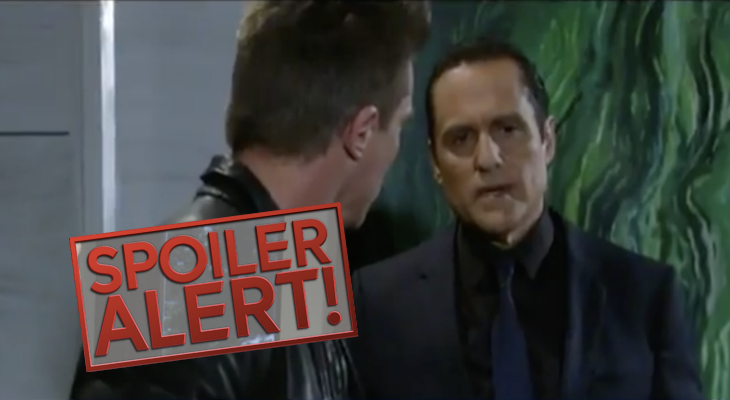 The General Hospital episode for Thursday, December 28 promises plenty of action and drama. Please be sure to tune in, you don't want to miss any of the drama.
Now that Lulu (Emme Rylan) has secured a staff position with Aurora Media, ABC General Hospital spoilers indicate Lulu is very excited about her future; unfortunately, she may be carrying things a bit too far. She informs her boss Peter August (Wes Ramsey) that she wants to follow up the election story with something just as big. Will Lulu's ambition lead her down a path of danger that will include her entire family? There is certainly more to this rigged election story than meets the eye. Others may be involved who are less than pleased this story has been uncovered. Mayor Lomax (Shari Belafonte) will not take this one lying down and may have revenge on her mind.
Finn (Michael Easton) and Anna (Finola Hughes) are still going at it. She is not happy that he is still involved in the plan to trap Cassandra (Jessica Tuck) and he insists he can handle himself. ABC General Hospital spoilers indicate Anna may be able to enjoy a minor victory, however, it may not be with Finn as he tells a very annoyed Anna that like it or not you are stuck with me. Will Anna prove to Finn that she is right that Cassandra is a very dangerous woman; out of his league?
Related: General Hospital Spoilers Wednesday December 27: Ava Misunderstands – Maxie Corners Amy – Anna Hears Disturbing Info
There is no love lost between Valentin Cassadine (James Patrick Stewart) and Sonny Corinthos (Maurice Benard) but when it comes to murder he might want to give that some thought. Cassandra summons Valentin to her lair and tells him it is time to eliminate Sonny Corinthos. Valentin is working as a double agent with Anna to bring Cassandra down and rid her from his life. He has promised his wife Nina (Michele Stafford) that he is finished being a bad boy. H has been able to convince Nina, however, that working to destroy Cassandra is in their best interests. Will Valentin comply? Will he kill Sonny on Cassandra's orders and how will that affect his relationship with Nina? Surely she will not condone murder. How will Valentin get out of this one? Perhaps he will pay Sonny and visit and let him in on what is happening?
Nelle (Chole Lainer) is up and running again after she fainted on Sonny's doorstep Christmas day. Michael (Chad Duell) is concerned about the health of this baby who may or may not be his. Since he does have a kind heart he accompanies Nelle to General Hospital to make sure everything is alright. While on the exam table Nelle questions someone and asks "Is that a threat?" Who could she be talking to. ABC Spoilers have hinted that Nelle and Maxie's (Kirsten Storms) paths cross. Could Maxie be on to Nelle's pregnancy scheme to trap poor Michael? Maxie knows a little about using a fake pregnancy to trap someone.
Meanwhile, out in the lobby Drew (Billy Miller) suggests to Michael that Nelle may be using him. He asks Michael if he is sure the baby is his. Will Michael listen to his uncle Drew and keep his distance with Nelle?
Sam (Kelly Monaco) runs into Carly (Laura Wright) at the Metro Court. Carly congratulates Sam after noticing her engagement ring but is she sincere? In other General Hospital spoilers, it seems Carly may be up to her old tricks and she may be ready to play dirty. Carly has made it clear she wants Sam and her best friend Jason (Steve Burton) back together. She told Sam they are soul mates and seeing Drew's ring on Sam's finger has triggered something in Carly. What will her plan include? Will it bring Sam and Jason back together? Or will it only push Sam closer to Drew and cause strife between Carly, Sam, and Jason; not to mention Sonny.
Jason has been falling deeper and deeper into depression since his return to Port Charles. He returned to find another man living his life with his wife and children. His son Jake (Hudson West) has rejected him and his wife Sam will not even look at him and has decided to stay with the man who she thought was him. Jason may decide it would be best for all involved if he just left town and started all over again; someplace where there are no memories. His brother and friend Sonny Corinthos tells him he feels this move may be about wanting to get away from Sam and Sonny is usually very good at reading Jason. Will he convince Jason to stick around and that things will get better down the road? Jason has become fed up watching his brother Drew live his life and can no longer take Sam's rejection. Will he remain and give life in Port Charles another chance in the new year?
LOVE GENERAL HOSPITAL? SIGN UP FOR OUR GH NEWSLETTER!
Be sure to tune in to watch General Hospital on ABC on Thursday, December 28 you won't want to miss any of the exciting drama.
Also, don't forget to check back with Celebrating the Soaps for all your latest news, updates, and spoilers for General Hospital along with all your other favorite daytime television soaps.
Also, don't forget to check back with Celebrating the Soaps for all your latest news, updates, and spoilers for General Hospital along with all your other favorite daytime television soaps.