General Hospital Spoilers: Thursday, February 14: Liz Wants To Marry Franco – Carly's Pregnancy Surprise – Spinelli Gets A Tip on Shiloh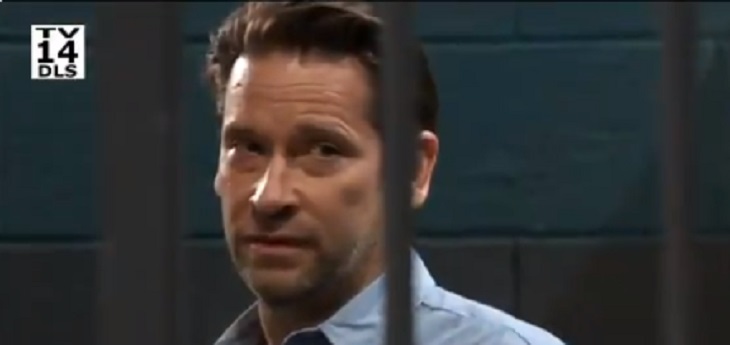 General Hospital spoilers for Thursday, February 14, tease that Kristina Corinthos-Davis (Lexi Ainsworth) will get a surprise. Valerie Spencer (Brytni Sarpy) will come back onto her radar and will want to be friends again. It's been a while since their kiss and Valerie's big brush off, and it looks like Valerie wants to make up.
Meanwhile, in Stockholm, Anna Devane (Finola Hughes), Hamilton Finn (Michael Easton), and Robert Scorpio (Tristan Rogers) will try to make headway with Dr. Cabot, who's blind and a patient at the clinic where he used to work. Cabot has just recognized Anna's voice, but soon he'll realize that she's Alex Devane's (Finola Hughes) twin.
General Hospital Sopilers – Liz's Shocking Wedding Plans
Next, on Thursday, February 14, Elizabeth Webber (Rebecca Herbst) will get a bright idea. She'll want to prove her love and devotion to Franco Baldwin (Roger Howarth) as he sits in a jail cell accused of being the Port Charles serial killer. But Elizabeth truly believes in Franco, and she'll want to marry him asap. "Let's do it right here, right now," she'll say.
At the Corinthos estate, Sonny Corinthos (Maurice Benard) and Carly Corinthos (Laura Wright) will enjoy Valentine's Day together. They'll lounge in bed and enjoy each other's company, but Carly will have something on her mind. She'll have a big surprise for Sonny. Luckily, Sonny will gush that he loves surprises…just wait until Carly springs on him that she's pregnant!
Across town, Shiloh Archer (Coby Ryan McLaughlin) will welcome Sam McCall (Kelly Monaco) to the Dawn of Day (DOD) house for the Valentine's Day Self Love Event. Sam will play her part well, pretending to be vulnerable and in need of guidance. And Shiloh will pick right up on it. "When are you going to stop running and find peace within yourself?" he'll ask her.
General Hospital Spoilers – Spinelli's Disturbing News
Finally, on Thursday, February 14, Jason Morgan (Steve Burton) and Damian Spinelli (Bradford Anderson) will get an interesting tip. It looks like they'll get some intel on Shiloh, or perhaps on "Harmony" (Inga Cadranel) over in Beechers Corners. Jason will ask Spinelli just how dangerous someone is, and Spinelli will reply, "murderously so."
Icons. 🤩 #BehindTheScenes #GH55 pic.twitter.com/BTcPRNMyDy

— General Hospital (@GeneralHospital) February 13, 2019
It looks like we're in for a great episode on Thursday! Stay tuned to the ABC soap and don't forget to check Celebrating The Soaps often for the latest General Hospital spoilers, updates, and news.
Read more news, spoilers, and gossip on our Celebrating The Soaps General Hospital home