General Hospital Spoilers: Thursday, March 14 – Ava Confronts Kevin – Kristina Shuts People Out – Laura Rethinks Her Marriage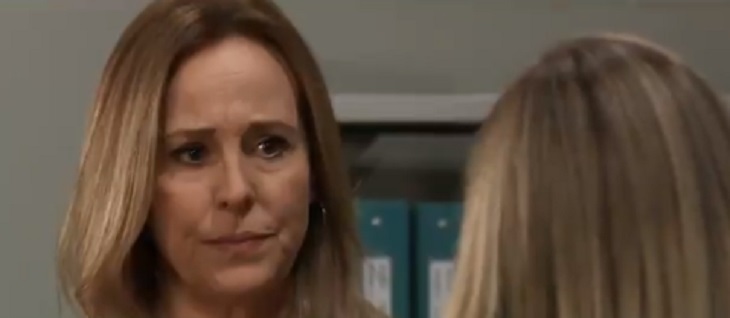 General Hospital spoilers for Thursday, March 14, tease that Anna Devane (Finola Hughes) will be feeling confrontational. The idea that she could have memories that belong to her sister Alex Devane (Finola Hughes) horrifies her, and she'll be feeling determined to find out the truth about the memory transfer experiments.
According to GH spoilers, Anna will soon be in the position to learn more information about the memory transfer experiments, as she confers with Dr. Andre Maddox (Anthony Montgomery) in the coming days. But until then, she'll be miserable wondering exactly which parts of her life may actually belong to her sister.
General Hospital Spoilers – Willow And Chase Get Closer
Meanwhile, Harrison Chase (Josh Swickard) and Willow Tait (Katelyn MacMullen) will spend some quality time together. These two have been getting closer, and it looks like they'll have another date. Of course, Willow is keeping a big secret from Chase. She's under the belief that "Wiley Cooper-Jones" is the baby that she gave up for adoption. Will that secret eventually come between Willow and Chase?
Next, on the new episode of GH on Thursday, March 14, Kristina Corinthos-Davis (Lexi Ainsworth) will have a tense talk with Sam McCall (Kelly Monaco) and Molly Lansing (Haley Pullos). The topic of Dawn of Day (DOD) will come up, and it looks like Kristina will mention her recent falling-out with Valerie Spencer (Brytni Sarpy). Kristina will explain to Sam and Molly that " if you can't respect the choices that I've made in my life, then you don't get to be in it."
General Hospital Spoilers – Shiloh Visits Oscar
Speaking of DOD, Shiloh Archer (Coby Ryan McLaughlin) will pay a visit to Oscar Nero (Garren Stitt) at GH. It looks like he'll find Kim Nero (Tamara Braun) and Drew Cain (Billy Miller), and Shiloh will offer his services to them. Shiloh believes in "healing" and miracles, and he might offer some hope to Kim and Drew. He'll tell them that "miracles are a lot more common than you might think." But GH spoilers say that Kim will reject his help and will want to keep Oscar away from him.
"Show yourself or your boss dies." @dom_zamprogna #GH55 pic.twitter.com/1LhqP9y6Xb

— General Hospital (@GeneralHospital) March 12, 2019
Meanwhile, Lulu Falconeri (Emme Rylan) will have a chat with her mother Laura Webber (Genie Francis), who will still be upset by her recent conversation with Kevin Collins (Jon Lindstrom). Laura is having trouble processing the fact that Kevin kept Ryan Chamberlain's (Jon Lindstrom) existence a secret from her from since May of 2018.
Lulu will bring up the topic of Laura's marriage, since Ryan effectively ended their marriage when he wanted to marry Ava Jerome (Maura West). But Laura won't be keen on quickly invalidating the divorce, and Lulu will demand to know why.
Finally, on the new episode of GH on Thursday, March 14, Ava will have a major confrontation with Kevin, who she just spotted in the hallway at GH. Of course, Ava is still drunk and not thinking clearly, so she'll be under the belief that this is the same man that she was engaged to and who killed Kiki Jerome (Hayley Erin). She'll let Kevin have it and end up slapping him in anger and frustration.
It looks like we're in for a great GH episode on Thursday! Stay tuned to the ABC soap and don't forget to check Celebrating The Soaps often for the latest General Hospital spoilers, updates, and news.
Read more news, spoilers, and gossip on our Celebrating The Soaps General Hospital home