General Hospital Spoilers: Trina Rejects Curtis' Paternity Test
General Hospital (GH) spoilers hint Curtis Ashford (Donnell Turner) and Trina Robinson (Tabyana Ali) will continue to try and process recent events. Portia Robinson's (Brook Kerr) lie has upset both of their worlds, and the two will continue to struggle in the aftermath. With that said, while Curtis will be eager to get down to the truth of Trina's paternity the week of February 27th, the young lady won't be ready to make that step, just yet.
General Hospital Spoilers – Curtis Ashford Clears The Air With Jordan Ashford, Who Encourages Him To Approach Trina Robinson
GH spoilers for the week of February 27th suggest that Curtis will confront Jordan Ashford (Tanisha Harper) about knowing Portia's secret before he did; plus, choosing but not telling him. In fact, even his Aunt Stella Henry (Vernee Watson) knew the truth for weeks before him.
While Curtis will be upset with Jordan at the beginning of their conversation, added GH teasers note that by the end of their talk, he'll understand his ex-wife's perspective. After all, it was Portia's responsibility to tell him the truth, and Jordan did all she could to encourage Robinson to do so before they got married.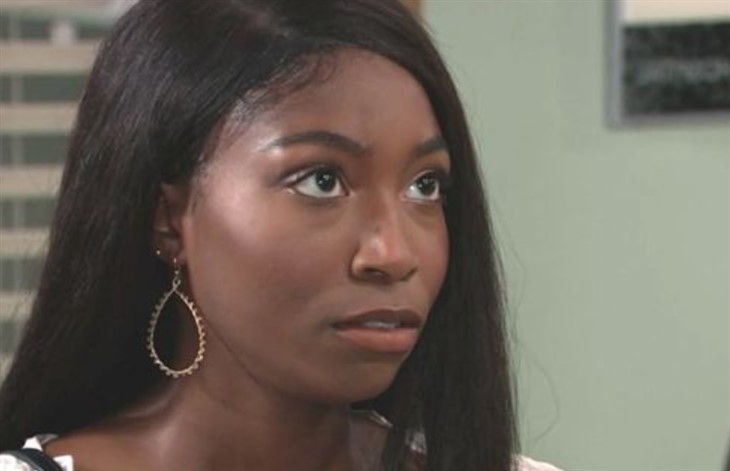 GH Spoilers – Curtis Ashford Finally Has A Talk With Trina Robinson, But Things Don't Go As Planned
GH spoilers imply that after their conversation, Jordan will encourage Curtis to talk to Trina. He's given the young lady space since Portia's lie came out, and he knows Trina is trying to digest everything that has come out. Curtis is fond of Trina, and there's clearly a side of him that would love to be her bio dad. While the two have had their ups and downs during his relationship with Portia, Trina does share a bond with Mr. Ashford, too.
GH spoilers hint that Curtis will heed Jordan's advice and approach Trina the week of February 27th. He'll first ask her how she's doing and offer her support. He'll make it clear to her that she can come to him with anything. In many ways, the two are in the very same position and feel the same sort of betrayal from Portia. The talk will seemingly be going well until Curtis suggests the possibility of a paternity test, so everyone can find out the truth.
This will trigger Trina, and added teasers reveal she'll have a very hostile answer to his DNA proposal. In fact, she'll outright decline a test, telling him that Marcus Taggert (Real Andrews) is her "one and only" father. She believes that a DNA test won't change things, since she's loved Taggert like a dad her whole life. Curtis will be hurt, but he'll respect her decision. The last thing he wants to do is pressure the young lady, and he'll completely back off. He understands that pushing her will only create conflict, and that's the last thing he wants between them.
Will Trina ever decide to move forward with a DNA test? Who do you think Ms. Robinson's bio dad is, Curtis or Taggert? Leave your comments below! Don't forget to tune in to your favorite ABC soap opera daily to watch this storyline unfold, and visit CTS for all the latest General Hospital news, spoilers, and updates!