General Hospital Spoilers Tuesday December 12: Cassandra & Finn Team Up – Carly has plans – Anna confides in Sonny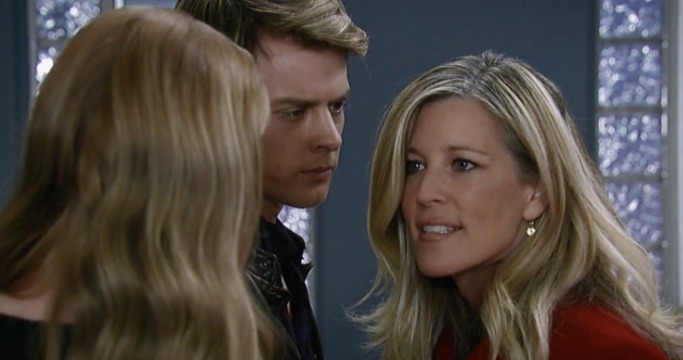 The General Hospital episode for Tuesday, December 12 promises plenty of action and drama. Please be sure to tune in, you don't want to miss any of the drama.
Britt Turns Herself In
Britt Westbourne (Kelly Thiebaud) has returned to Port Charles. At the PCPD she seems very happy to see an old friend, too bad it could not have been under better circumstances; as it appears she is under arrest. Who could she be so happy to see? Dante (Dominick Zamprogna) would not be so pleased to see her since she kept Rocco (O'Neil Monahan) from them and pretended he was her and Patrick's baby for the longest time. Detective Nathan West also works at the PCPD and Britt is his sister. Could this be the person she is so happy to see? Will Nathan feel the same way and embrace his fugitive sister?
Finn Partners With Cassandra
Dr. Hamilton Finn (Michael Easton) has been continuing to play the spy game despite Anna's (Finola Hughes) wishes to the contrary. ABC General Hospital spoilers hint Finn may be getting in over his head. Cassandra Pierce (Jessica Tuck) seems to be showing a growing interest in the good doctor. Has she decided to take him up on his offer? She and Finn meet and share a glass of Champaign and a toast. Cassandra holds her glass up to Finns and says, "to our mutual interests." Looks like Finn may be in for the long haul. Is she stringing him along? Does she trust him? How will Anna take this news?
Laura Is Taking On New Challenges
Laura (Genie Francis) meets with her daughter Lulu (Emme Rylan), no doubt Lulu has shared with her mom about her new career choice as an investigative journalist. Laura has news to share also. She tells Lulu she is ready to take on a new challenge of her own. What could she mean? We know that Laura has plans to marry Dr. Kevin Collins (Jon Lindstrom). This is not a secret, so what could Laura be speaking about? ABC General hospital spoilers hint Laura may have a few plans that don't involve her husband to be.
Nelle and Michael Break The News
Nelle (Chloe Lanier) and Michael (Chad Duell) make the rounds as they break the news about Nelle's pregnancy. Nelle is ecstatic but Michael is cautious and not yet convinced as he informs his brother Dante that Nelle is expecting a baby. Dante is visibly shocked as other General Hospital spoilers reveal Michael will step up and assert himself in his relationship with his parents over this not so Christmas surprise.
While Michael informs his brother, Nelle decides to spread the news to Nina; (Michele Stafford) her former employer. She tells Nina that she believes she and Michael will be looking for a Nanny soon. Nina knows how deceitful Nelle can be since she fired her a few weeks back. Will she believe Nelle and congratulate her or suspect she is lying? Why would Nelle give Nina this news?
Carly (Laura Wright) is angry about the baby news Nelle has just dropped in her lap. She informs her mother Bobbie (Jacklyn Zeman) and worries this will ruin Michael's life. She says Nelle will use this baby to get whatever she wants. Could Carly and Bobbie have a plan to stop Nelle in her tracks. Carly does not believe for one minute that this baby is Michael's. Will she set out to prove it? Looks like there will be plenty of fireworks in December six months before the Fourth of July.
Sonny Chats With Anna
Meanwhile, across town Sonny (Maurice Benard) sits down to have a chat with Anna Devane. He fills Anna in on what has been happening with Jason (Steve Burton) and Andre's (Anthony Montgomery) mind mapping experiment. He also lets her know that Britt is back in town and has information on Faison (Anders Hove). Anna does not look pleased in the least; as a matter of fact, she seems concerned as she tells Sonny "It's starting again." Faison has always held a fascination for Anna, and now that she knows he is up to his neck in this kidnapping and mind mapping game she knows danger is not far off.
LOVE GENERAL HOSPITAL?  SIGN UP FOR OUR GH NEWSLETTER!
Be sure to tune in to watch General Hospital on ABC on Tuesday, December 12 you won't want to miss any of the exciting drama.
Also, don't forget to check back with Celebrating the Soaps for all your latest news, updates, and spoilers for General Hospital along with all your other favorite daytime television soaps.
Also, don't forget to check back with Celebrating the Soaps for all your latest news, updates, and spoilers for General Hospital along with all your other favorite daytime television soaps