General Hospital Spoilers: Tuesday, February 19 – Curtis Grills Sasha – Carly's Officially Pregnant – Shiloh Propositions Sam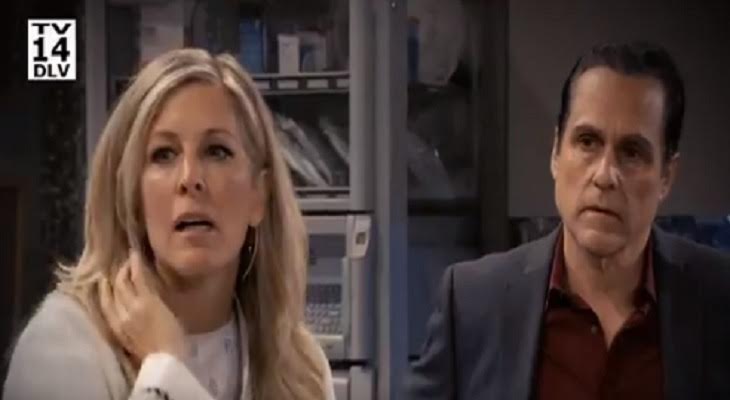 General Hospital spoilers for Tuesday, February 19, tease that Lulu Falconeri (Emme Rylan) will be looking to tell her story. She's been through a terrible ordeal, but little does she know that what she "remembers" about her attack and attacker are false memories planted in her mind by Ryan Chamberlain (Jon Lindstrom). She'll tell someone that she's got an incredible story to tell, so she might be looking to take her ordeal public.
Meanwhile, Maxie West (Kirsten Storms) will be feeling energized. She'll have a lead on Sasha Gilmore (Sofia Mattsson), and she'll be anxious to see it through. Maxie will chat with Peter August (Wes Ramsey), and she'll hope that her lead helps her prove that Sasha isn't really Nina Reeves' (Michelle Stafford) daughter.
Speaking of Sasha, Curtis Ashford (Donnell Turner) will sit down with her at Kelly's. Curtis was floored to find out that Nina and Valentin Cassadine (James Patrick Stuart) are remarrying, and he suspects that Sasha had something to do with it. He'll express his skepticism to Sasha, as he says, "I really hope you're as genuine as you seem."
Next, on the new episode of GH on Tuesday, February 19, Carly Corinthos (Laura Wright) and Sonny Corinthos (Maurice Benard) will arrive at the hospital for an official pregnancy test. Suddenly Dr. Kim Nero (Tamara Braun) will appear and announce that she's been asked to cover their appointment, which will come as a surprise. Later, Kim will announce that Carly is indeed pregnant.
At the Floating Rib, Shiloh Archer (Coby Ryan McLaughlin) will cozy up with Sam McCall (Kelly Monaco). Sam's plan to draw Shiloh seems to be working, as Shiloh is getting more intrigued by Sam's needy persona. He'll have something in mind for the rest of their evening, as he says, "there's something that I think you need to see to understand." What could it be?
Ryan's world is crashing down around him, West Coast. And he doesn't even realize Laura followed him to Ferncliff. #GH55
A dramatic, new #GH starts RIGHT NOW on ABC! @thejonlindstrom pic.twitter.com/r1WHZxUSHt

— General Hospital (@GeneralHospital) February 18, 2019
Finally, on Tuesday, February 19, Drew Cain (Billy Miller) and Jason Morgan (Steve Burton) will have a chat about Shiloh. Jason doesn't trust Shiloh at all, and he even has some evidence that he could be dangerous. It looks like he'll share that information with Drew, to get him more on board with the investigation into Shiloh.
It looks like we're in for a great episode on Tuesday! Stay tuned to the ABC soap and don't forget to check Celebrating The Soaps often for the latest General Hospital spoilers, updates, and news.
Read more news, spoilers, and gossip on our Celebrating The Soaps General Hospital home