General Hospital Spoilers Wed December 13: Nelle Threatens Michael – Sam is Concerned – Ava Makes a Promise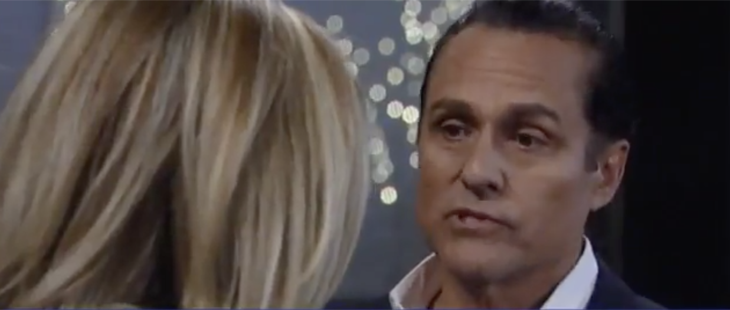 The General Hospital episode for Wednesday 13 promises plenty of action and drama. Please be sure to tune in, you don't want to miss any of the drama.
Julian Jerome (William DeVry) is now free on bail pending another trial. When he returned home he realized his sister Ava (Maura West) has been developing a relationship with Dr. Griffin Munroe (Matt Cohen) who is not exactly one of his fans. ABC General Hospital spoilers state Ava will go to any lengths to make Griffin happy, but will this destroy her relationship with her brother Julian? She may be forced to make a choice, or she could decide to play both men. Ava meets Julian at the Floating Rib and assures him that he is her brother and family sticks together. She has made a similar promise to Griffin. Who will she choose?
Related: General Hospital Kirstin Storms And Brandon Barash Show How Co-Parenting The Right Way
Now that Oscar (Garren Stitt) has become aware of the fact that Drew Cain(Billy Miller) is his father, his mother Kim (Tamara Brawn) will have to make some adjustments. Oscar is not so sure of all the changes in his life, perhaps he turns to his mother for some answers. Kim assures her son that the only thing that matters is him. Kim may not be ready to share the whole truth with Oscar and his may question her sincerity.
Now that the cat is out of the bag and Nelle (Chloe Lanier) has shared with half of Port Charles she is carrying a Corinthos/Quartermaine baby she has certain expectations. She has tried to lay a guilt trip on Michael (Chad Duell) but that has not worked to her advantage. She has pushed Carly's past life in her face and none of this seems to do the trick. ABC General Hospital spoilers state Michael is torn. Will he give into Nelle and take her back believing she is carrying his baby? While everything else has failed Nelle offers Michael an ultimatum. She warns him that if he refuses to make her life easier he will regret it. Michael does not look as if he is ready to cooperate however, we know he has a soft heart and this is how he got himself into this mess in the first place. Will he play along with Nelle until he can figure a way out? Perhaps he will seek advice from his dad Sonny (Maurice Benard).
Meanwhile across town, Sam (Kelly Monaco) pays a visit to Monica (Leslie Charlson) at the Quartermaine mansion. Other General hospital spoilers state Sam confides in Monica. Sam tells Monica she is worried about Drew. Sam has just learned that Drew has a son; Oscar. Perhaps Sam is concerned that Drews past is about to catch up with him and since Monica has been able to develop a relationship with him, Sam may want Monica to have a heart to heart with him and tell him things she may not be able to say.
Just as Sam has a meeting with Monica, Jason (Steve Burton) decides it is time to have a long overdue face to face meeting with his brother. Other spoilers suggest Jason offers up a piece of advice. Will he advise Drew to take back his own life and stop trying to live his? Jason tells Drew he has come to see him.
LOVE GENERAL HOSPITAL?  SIGN UP FOR OUR GH NEWSLETTER!
Sonny and Carly (Laura Wright) have faced controversy before. Now that Nelle has made it known that she is carrying Michael's child Carly is worried Nelle will take Michael for everything. She wants to protect her son from Nelles clutches. Sonny seems to be her answer as he assures her that if he takes action everything will change. Sonny seems confident that his contribution will make a difference. Or could Sonny be referring to Jason's situation?
Be sure to tune in to watch General Hospital on ABC on Wednesday, December 13 you won't want to miss any of the exciting drama.
Also, don't forget to check back with Celebrating the Soaps for all your latest news, updates, and spoilers for General Hospital along with all your other favorite daytime television soaps.
Also, don't forget to check back with Celebrating the Soaps for all your latest news, updates, and spoilers for General Hospital along with all your other favorite daytime television soaps.