General Hospital Spoilers: Will Ava & Austin Head Out Of The Friends' Zone When Danger Strikes?
General Hospital (GH) spoilers suggest the storyline involving Ava Jerome (Maura West) and Austin Gatlin-Holt (Roger Howarth) is about to heat up. With that being said, will things ever "heat up" between these two characters or will they stay in the friends' zone?
General Hospital Spoilers – There's Something About "Danger" That Brings Characters Together
GH spoilers imply now that Mason Gatlin (Nathanyeal Grey) is back in the picture, this storyline is sure to ramp up. It feels like a hot minute since fans saw Mason talking to someone on the phone, as Nikolas Cassadine (Adam Huss) sat on life support. Looks like Mr. Gatlin's boss wants Ava to use her co-parenting status with Sonny Corinthos (Maurice Benard) to offer up some information; however, Ms. Jerome finally has a positive relationship with the mob boss and the last thing she'll want to do is throw him under the bus.
It looks like Ava will be stuck between a rock and a hard place. It also looks like she'll be navigating dangerous waters with Austin right beside her. They seem to have bonded over all this drama and are certainly becoming closer friends by the moment. Still, when it comes to the land of soap operas, dire circumstances tend to push the best of friends into romance. Could this happen with Ava and Austin?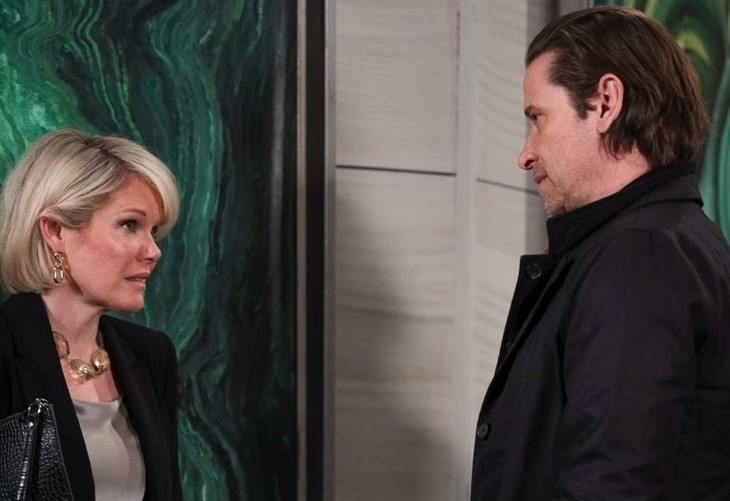 GH Spoilers – Do Ava Jerome And Austin Gatlin-Holt Have Chemistry?
Austin's a tricky character. Maybe it's because actor Roger Howarth has played so many characters in Port Charles already that it's hard for fans to find their footing with the good doctor, but it feels like the character takes two steps forward and two steps back in the land of Port Charles.
His relationship with Maxie Jones (Kristen Storms) was a flop because there was no chemistry. He seemed to have some sparks with "friend" Britt Westbourne (Kelly Thiebaud), but she sadly passed away before things could be explored. With Ava, there doesn't seem to be anything to report back home, other than friendship, but they've also not been given a lot of screentime recently to truly explore the idea of a romance. Sparks could fly now that their storyline is picking up steam.
Could Ava and Austin become "a thing"? Share your thoughts in the comment section. Check out the soap daily on ABC daily stay on top of the drama and visit this site daily for the most recent General Hospital updates, news, and spoilers.