General Hospital Weekly Spoilers February 11 to 15: Confrontations, Trouble, Odd Communications and More!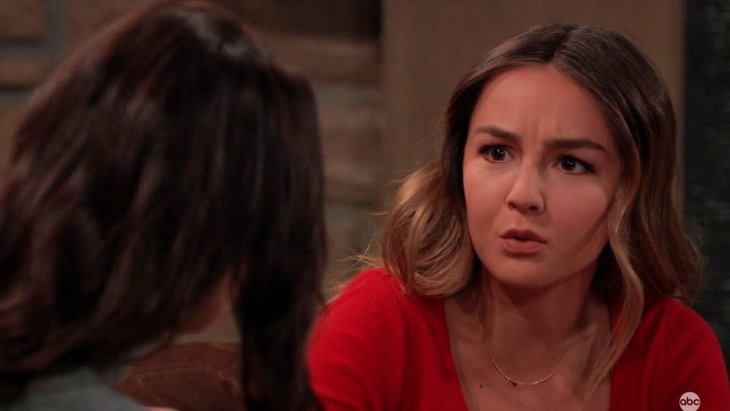 General Hospital (GH) spoilers for the week of Monday, February 11 through Friday, February 15, 2019, reveal confrontations, trouble and odd communications. The future of several citizens of Port Charles is in question. GH fans will not want to miss out on all the excitement coming their way beginning Monday, February 11!
GH Spoilers Carly Upset At Sam
GH sources tease that Carly Corinthos (Laura Wright) may have spoken to BFF, Jason Morgan (Steve Burton) about the situation, but it doesn't stop her from confronting Sam McCall (Kelly Monaco) on her actions. Is it all part of the ruse, or is Carly genuinely upset with Sam? Sam will be spending Valentine's Day with Shiloh (Coby Ryan McLaughlin), rather than Jason just as Jason and Damian Spinelli (Bradford Anderson) find some interesting information they have been looking for. Could the duo finally catch a break when it comes to the mystery surrounding Shiloh and Dawn of Day?
General Hospital Kristina Jealous Of Sam
Drew Cain (Billy Miller) is also tossed into the mix as he meets with his former military buddy "Hank Archer" aka Shiloh as well as Kristina Davis Corinthos (Lexi Ainsworth) will attempt to control her feelings as she feels jealous of Sam's developing "romance" with Shiloh!
WATCH: Shiloh asks Sam the million dollar question. #GH55@kellymonaco1 #CobyRyanMcLaughlin pic.twitter.com/pAbj7eKDZE

— General Hospital (@GeneralHospital) February 9, 2019
GH Spoilers Ava Saves Griffin
Ava Jerome (Maura West) may have just saved someone's life as she arrives just in time to prevent Ryan Chamberlain (Jon Lindstrom) from committing another dastardly act. Will Ava be the one who pieces everything together?
Weekly General Hospital Spoilers Jordan Doubts Franco's Guilty
General Hospital spoilers show Laura Webber (Genie Francis) will go see Franco Baldwin (Roger Howarth) who is the prime suspect of several murders including the murder of Kiki Jerome (Hayley Erin), and the attempted murder of Lulu Falconeri (Emme Rylan). PCPD Police Commissioner, Jordan Ashford (Briana Nicole Henry) isn't completely convinced that Franco is the killer and will offer him a way out of it. Will Franco take the opportunity to prove his innocence?
Peter August (Wes Ramsey) and Maxie Jones (Kirsten Storms) will run into Nina Reeves (Michelle Stafford) at the beginning of this week. How will Nina react to the couple getting closer and will she share Valentin's (James Patrick Stuart) proposal news with them?
For The Rest of The Residents Of Port Charles
Meanwhile, in other GH spoilers, Dr. Hamilton Finn (Michael Easton) and Robert Scorpio (Tristan Rogers) continue to work the case together, in a strange way; they work well together! Michael Corinthos (Chad Duell) will receive word from Nelle Benson (Chloe Lanier). How will he react to what Nelle has to say, and why is she contacting him after all this time? Ned (Wally Kurth) and Olivia Quartermaine (Lisa LoCicero) will find time to celebrate while Sonny (Maurice Benard) and Carly Corinthos will be forced to face their relationship and what the future holds for them!
Be sure to tune into ABC's General Hospital (GH) on Monday, February 11, 2019, to catch up on all these exciting stories happening right now in Port Charles. Check Celebrating the Soaps often for update, news, rumors, and spoilers!