Meet General Hospital's New Baby West!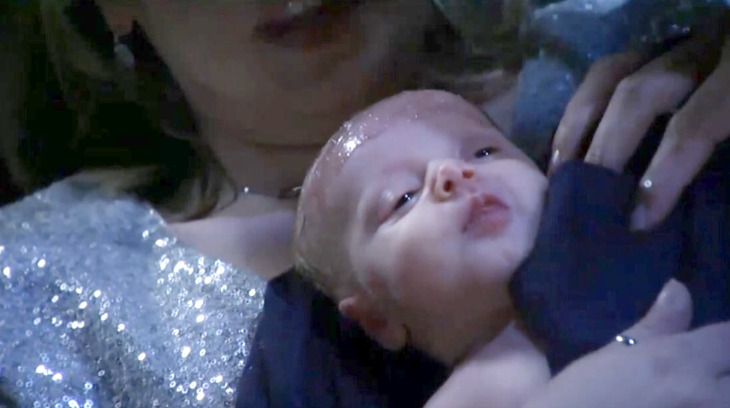 General Hospital spoilers indicate that we know who is playing the new Baby West as Maxie gives birth to her first child on the hit ABC soap. As a matter of fact, the baby, who is the child of the late Nathan, is already being called 'Naxie' by General Hospital fans.
According to Star Kidz, Nathan West and Maxie Jones West's child will be played by Sally Brown. It's without a doubt that Sally's parents are very excited to see their baby girl make their debut on daytime television. This might just be the start of a very long and prosperous career in the entertainment industry. After all, how many actors and actresses out there can say that they got their start on television as a newborn?
And while everyone is excited about the debut of baby West expect lots of drama. But it's not like we would expect anything less from a birth scene on a soap, right? To make matters worse, Maxie had Peter August standing right next to her through each and every contraction. Imagine when Maxie finds out who Peter really is? The truth will finally come out? Fans will just have to tune in to find out what will happen next!
LOVE GH?  SUBSCRIBE TO OUR GENERAL HOSPITAL NEWSLETTER, HERE!
General Hospital airs every weekday on the ABC network. You'll have to check your local listings for times. Let us know what you think by leaving us a line with your thoughts in our comments section below. And as always, don't forget to come back to Soap Opera Spy for all the latest news, updates and spoilers on General Hospital and all of your favorite daytime television shows right here!
As always, more detailed spoilers and a full collection of pictures for the week in question will appear here on Celebrating The Soaps, where there will be more clues and hints over exactly what's going on.
General Hospital airs weekdays on the ABC network.
---
Read more news, spoilers, and gossip on our General Hospital homepage
Want up-to-the-minute soaps news, spoilers, and gossip on your social feeds? Just hit 'Like' on our Facebook page and 'Follow' on our Twitter account