The Big Moment Is Finally Here! GH Sam and Jason Finally Share a Big Kiss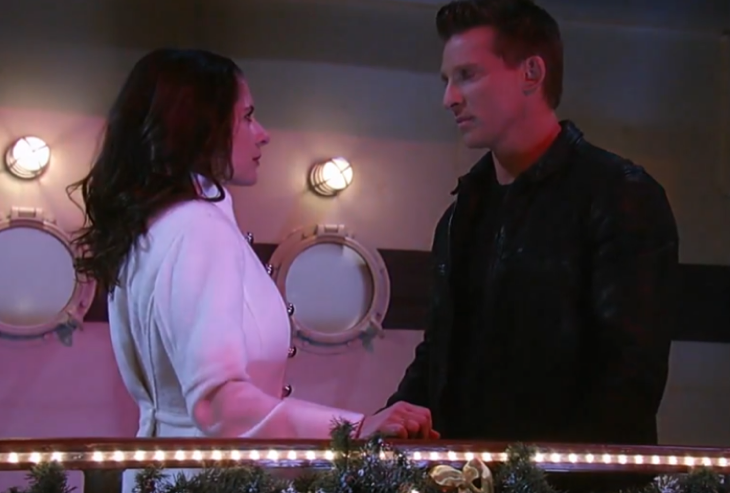 General Hospital spoilers tease that fans will finally get to see the moment we've all been waiting for: Sam and Jason's big kiss. Jason Morgan (Steve Burton) and Sam McCall (Kelly Monaco) reminisce about their past and end up making a move that will surprise everyone.
For the longest time, Sam was torn between her current husband, Drew Cain, and the man that she loved so much in the past: Jason Morgan. Sam and Jason were a hot couple before he mysteriously left Port Charles years ago. Sam didn't know that she had cultivated a romance with Jason's twin brother, Drew Cain, in his absence. They even had a baby together while Jason was gone.
Related: General Hospital Spoilers Thursday, December 28: Cassandra Wants Sonny Dead – Drew Doubts Nelle – Jason Becoming Depressed
But now that the real Jason Morgan is back, Sam can't help but feel the intense chemistry between them. To complicate matters even more, she is not even be legally married to Drew Cain because of the entire twin memory swap ordeal.
For the last several weeks Jason has made it no secret that he still feels a connection to Sam. It was just a matter of when and if they would both realize that they should get back together again. Well, now it looks like the time has finally come as Jason and Sam will share a passionate kiss that might seal their fate. The only question now is whether or not they will be able to live happily and in peace. Fans will just have to tune in to see what will happen next!
General Hospital airs weekdays on the ABC network. Tell us, are you excited to see Sam and Jason finally back together again? What do you think is next for this power couple? Let us know by leaving your thoughts in our comments section below.
LOVE GENERAL HOSPITAL? SIGN UP FOR OUR GH NEWSLETTER!
Also, don't forget to check back with Celebrating the Soaps for all the latest news, updates and spoilers on General Hospital and all of your favorite daytime television shows right here!
Also, don't forget to check back with Celebrating the Soaps for all your latest news, updates, and spoilers for General Hospital along with all your other favorite daytime television soaps.