Neighbours Spoilers: Callum Rebecchi Returns – Morgan Baker Back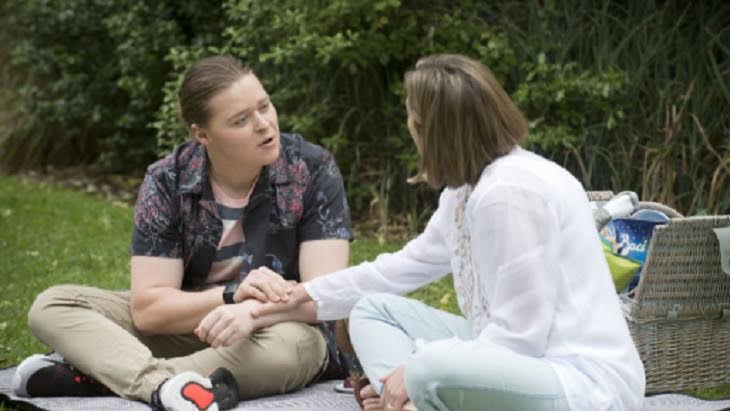 In the wake of Sonya Rebecchi's saddening stage four cancer storyline, Morgan Baker has returned to Erinsborough to reprise his role of Callum, Sonya and Toadie's son.
Callum is currently living, working and studying in LA, but returns home on the day of a charity fundraiser that has been organised on behalf of Sonya. Although she's happy to see her son return it leaves her uneasy as she's not yet told her son about her illness.
To start with, Callum pretends that he only learnt about his mother's cancer when he got off the plane in Australia, but he later confesses that he actually found out when he was back in LA. Sonya is angry to know that someone went behind her back and told Callum, initially suspecting that it was Toadie. However, Dipi steps in and confesses that she was the one who told him.
Sonya is angered; her illness is not someone else's news to tell. A fierce confrontation ensues as she has some stinging words for Dipi, but she soon becomes dizzy and Callum has to rush to catch her.
Ned gives a tour of the body shop today on #Neighbours 💪 pic.twitter.com/WkAwl2KoKO

— Neighbours (@NeighboursTV) February 14, 2019
In a sweet attempt to ease all the confrontation, Callum suggests that he and his mother go for a picnic by the lake. While here he confronts her with some hard truths, suggesting that she was the one in the wrong for not telling Callum the truth to start with.
Sonya realises that her son is right, appreciating that the love and support he will provide her with will be a huge help in her recovery. For this reason, Sonya apologises to Dipi for getting angry at her, admitting that she was the one in the wrong.
Tune into Neighbours on Wednesday 20th and Thursday 21st February to watch these scenes unfold.
Check out our exclusive Neighbours spoilers page for more details!
Want up-to-the-minute soaps news, spoilers, and gossip on your social feeds? Just hit 'Like' on our Facebook page and 'Follow' on our twitter