Meghan Markle, Queen Elizabeth Reportedly Had a Major Clash Over Her Wedding Tiara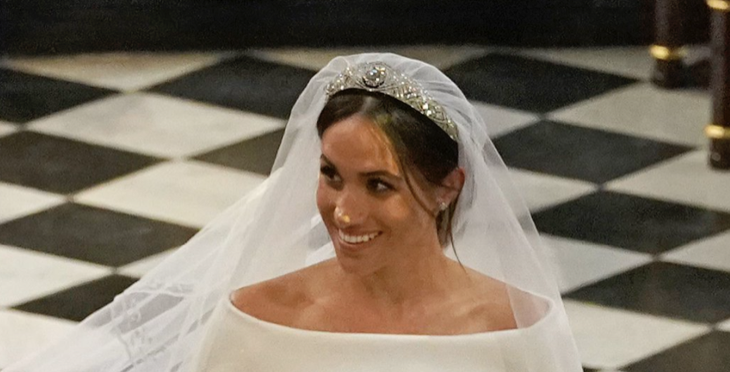 It's been nearly six months since Meghan Markle wed Prince Harry in a lavish royal wedding, attended by more than 600 hundred personalities and watched by millions worldwide. While it looked to be a fairytale wedding in every way, recent reports suggest that Meghan Markle had a bridezilla moment leading up to her big day.
According to a new book by royal insider Richard Jobson, Meghan was unhappy about the tiara she wore on her wedding day. The 37-year-old former actress reportedly had her eyes set on a different headpiece–one that featured emeralds. Unfortunately for the bride-to-be, she was told that her choice was "off-limits." This upset both Meghan and Prince Harry, who told his royal staff that "What Meghan wants, Meghan gets." Apparently, Queen Elizabeth II did not like her grandson's attitude and immediately stepped in.
"There was a very heated exchange that prompted the Queen to speak to Harry," the source revealed. She said, 'Meghan cannot have whatever she wants. She gets what tiara she's given by me.'"
Eventually, Meghan Markle conceded and settled for a diamond-encrusted platinum tiara to match her all-white wedding gown. But that wasn't the end of her rift with Queen Elizabeth. Reportedly, Her Majesty also questioned Meghan's decision to wear a veil when it was obviously not her first marriage. Meghan Markle, now the Duchess of Sussex, was previously married to a Hollywood director prior to meeting Prince Harry.
Despite the royal wedding drama, Meghan Markle seems to get along well with her in-laws. The new duchess is especially close with her father-in-law, Prince Charles. In the new BBC documentary "Prince, Son and Heir: Charles at 70," Prince Harry opened up about how his father willingly escorted Meghan when her own father couldn't walk her down the aisle.
Meghan is also adjusting well to her new life as a member of the royal family. Last month, she accompanied Prince Harry in her first official tour to Australia, Fiji, New Zealand, and Tonga. Shortly after arriving in Sydney, Kensington Palace announced that the royal couple is expecting their first child together.