Prince Harry And Meghan Markle's Baby To Break Royal Record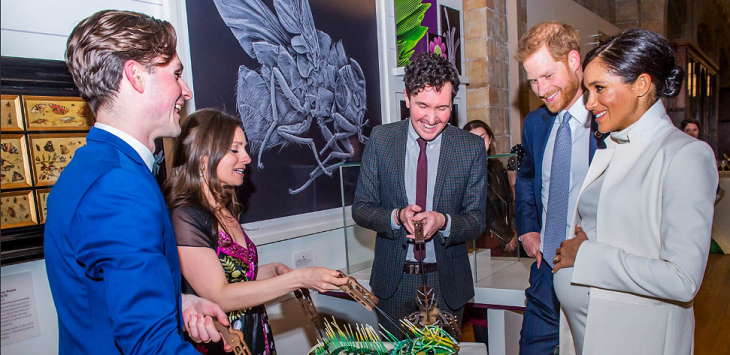 Is Prince Harry and Meghan Markle's baby going to break royal records? That's what a lot of fans can't help but wonder as Meghan Markle's baby bump seems to be growing by the day.
Even though she has about two more months left in her pregnancy, a lot of royal fans believe that the Duchess of Sussex might give birth to one very big, royal baby. Here's what you need to know.
Just last year Prince William and Kate Middleton welcomed their third child, Prince Louis, and according to reports, he currently holds the record for the biggest royal baby ever born at 8 lb, 7 oz.
Will Meghan and Prince Harry's Baby Be Bigger Than Prince Louis?
Seeing how Meghan Markle has several more weeks to go, there's a strong possibility her baby might be even bigger than Prince Louis. In fact, proud father-to-be Prince Harry made a reference to his future child at the annual Endeavor Fund Awards at Drapers' Hall on Thursday evening.
While celebrating the achievements of military veterans at the awards ceremony, Harry paused to reveal that Meghan is carrying "a heavy baby" while his wife cradled her growing bump. There's a chance that this baby might end up breaking Prince Louis' record!
Meghan Markle has not made any comments about her pregnancy, although she did tell a well-wisher back in January that she is due at the end of April. Also, it's safe to say that Meghan is feeling both healthy and happy as she is set to take on a quick two-day visit to Morocco at the end of February.
The Duke of Sussex, Captain General @RoyalMarines, watches a Joint Personnel Recovery demonstration @42_Commando in which Royal Marines disembark from a Merlin helicopter and simulate the rescue of an F35 pilot from the new HMS Queen Elizabeth Aircraft Carrier @HMSQNLZ. pic.twitter.com/UXg2EE5nqN

— Kensington Palace (@KensingtonRoyal) February 20, 2019
The Count Down Is On Until The Royal Birth
Clearly, Meghan is living her best life and feeling absolutely great as both she and Prince Harry continue to count down the days until they meet their little royal bundle of joy. We can't wait to see the first pics of their baby!
In the meantime, drop us a line with your thoughts in our comments section below. And as always, come back to Celebrating to Soaps for all the latest news and updates on Prince Harry and Meghan Markle's pregnancy along with the rest of the royal family right here!