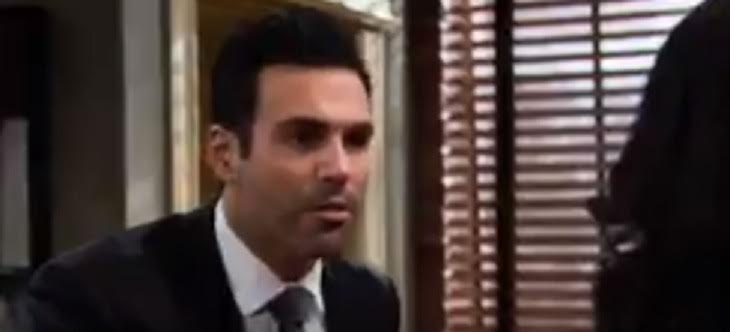 The Young and the Restless (Y&R) spoilers for Friday, March 8, 2019 tease that we will have a day filled with summations, a marriage ends, and let's not forget plenty of drama. We have a very exciting day coming up and you will not want to miss a moment of the action!
Y&R spoilers reveal that Victoria Newman (Amelia Heinle) will take the stand and tell her side of what went down the night that J.T. Hellstrom (Thad Luckinbill) died. She will explain the terror she and the other ladies went through and then will add that she feared for her life.
Micheal Baldwin (Christian Le Blanc) will work to make everyone see just how violent J.T. was and that the ladies were only acting in self-defense. Do you think Michael stands a chance at winning?
Young And The Restless – Brittany Optimistic About Sharon Chances
Meanwhile, Brittany Hodges (Lauren Woodland) will be optimistic that Victoria built a strong case and that it will help Sharon Newman's (Sharon Case) case. Sharon can not believe that Christine Williams (Lauralee Bell) is doubting Victoria's story and trying to make J.T. out to be the victim. Sharon just hopes that everything works in her favor.
Other "Young and Restless" spoilers suggest that Rey Rosales (Jordi Vilasuso) will end his marriage to Mia Rosales (Noemi Gonzalez). Mia will be upset with Rey after learning he told Sharon  that he loved her. Rey will end up admitting that he is in fact in love with Sharon and that he can not get over the fact that she wants Arturo Rosales (Jason Canela).
Today on #YR, Jack tests Kerry's loyalty. WATCH FULL EPISODE: https://t.co/SzJrXZnr8W pic.twitter.com/LPELft5l3p

— Young and Restless (@YandR_CBS) March 7, 2019
He will tell her that he will be there for the baby but does not want to be with her anymore. Do you Y&R fans think it is actually over for them this time? Make sure to stay tuned to CBS "The Young and the Restless" to find out. Don't forget to check often with Celebrating The Soaps for all your latest spoilers, news, updates, and much more!
Read more Celebrating the Soaps news, spoilers, and gossip on our The Young & The Restless homepage