The Young and The Restless Spoilers Monday, August 21: Victor's Move Worries Nikki – Victoria Blasts Hilary – Devon Upset At Neil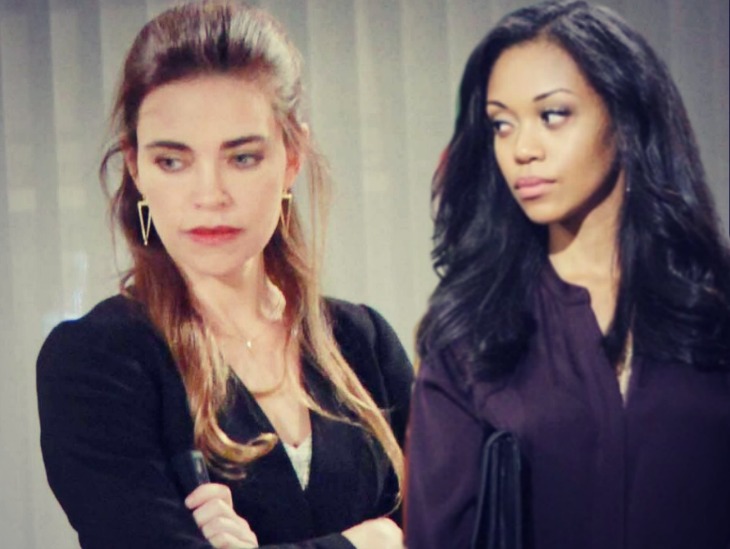 "The Young and The Restless" spoilers for Monday, August 21st, is full of a lot of miscommunication and even no communication. It will cause a lot of problems for some of the residents in Genoa City. As we know Nikki Newman (Melody Scott) has a new address wants to her son Nick Newman (Joshua Morrow) know where he can find her. Nikki gets to the tack house on the Newman Ranch, only to find her step-daughter Abby Newman (Melissa Ordway). It seems Nick has not updated Nikki to his address change as well. Abby lets Nikki know that Victor kicked Nick off the ranch, and has offered the tack house to her. Nikki grows concerned that Victor's action towards Nick will soon snowball.
"The Young and The Restless" spoilers reveal that the snowball effect is exactly what Devon Hamilton (Bryton James) is hoping to avoid at the Hamilton-Winters Group (HWG). Neil Winters (Kristoff St. John) is feeling proud of his efforts to help his friend Victoria Newman (Amelia Heinle) with the bridge loan she needed to keep 'Brash & Sassy' going. Neil worked a deal that HWG would provide the bridge loan as long as Lily Ashby (Christel Khalil) stays employed with 'Brash & Sassy' as their Brand Ambassador. Devon becomes put out and upset that Neil did not consult with him first before moving on this deal. Devon is going to be more angered when he learns of all the public problems and bad press 'Brash & Sassy' will have. After the episode of 'The Hillary Hour' airs on GC Buzz with breaking news concerning Victoria and 'Brash & Sassy' Devon will have the right to worry. He will be concerned how the scandal is going to affect HWG as they are now connected with 'Brash & Sassy'.
 "The Young and The Restless" sources tell us that HWG will not be the only ones to be dealing with the fallout from the exclusive GC Buzz aired on Victoria and 'Brash & Sassy'. The preview shows Victoria storming into the studio of GC Buzz yelling demands to Hillary Curtis (Mishael Morgan). "How can you do that? Airing that filthy trash," an angry Victoria continues, "You're taking the footage of me offline and you are doing it now!" However, it may be too late, the damage is done. Will the HWG find a legal loophole to get out of the bridge loan with 'Brash & Sassy'? Will this be the final nail ending 'Brash & Sassy'? Leave us a comment and share your thoughts.
Catch "The Young and The Restless" weekdays on CBS. Be sure to check back here at Celebrating the Soaps, your "Y&R" source for news, updates, spoilers and so much more!