The Young and the Restless Spoilers Monday, September 4: Sharon Knows Truth About Alice – Jack Propositions Hilary – Billy and Vicky Plot to Save Brash & Sassy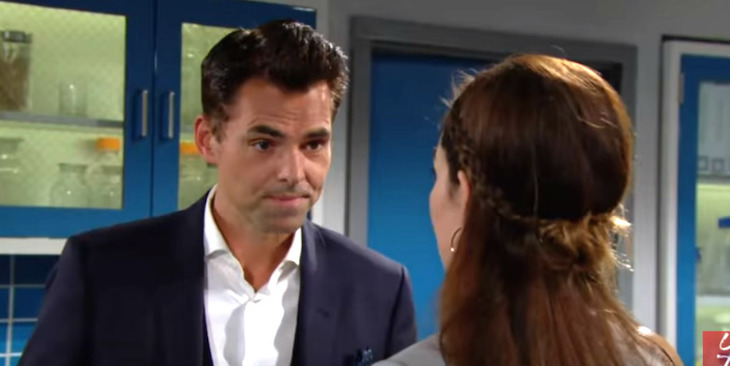 "The Young and the Restless" (YR) spoilers for Monday, September 4th tease that Sharon McAvoy (Sharon Case) will no longer be doubtful, she has put the pieces together and is very confident that Alice Johnson (Tamara Clatterbuck) is part of the sex ring. She will tell Scott Grainger (Daniel Hall) that her instincts have been right all along; she will not give up on wanting to help Tessa Porter's (Cait Fairbanks) sister Crystal (Morgan Obenreder). Sharon and Scott have already scoped out Alice's house, but came up empty. They will not give up; down the road spoilers suggest that Sharon will put herself in grave danger. Alice will not appreciate her putting her operation at risk.
Related: Hilary Apologizes To Mariah – Nikki Confronts Jack – Billy Vows To Protect Victoria
Over at Crimson Lights we see Zack (Ryan Ashton) on the phone with Alice. They are having a conversation about Crystal. Zack looks down at a picture on his phone and it's Crystal but the name reads "Rainbow Girl". So maybe this is her alias. Alice let's Zack know that Crystal is one of the most requested women but has been trouble. So what do you think this means for Crystal?
Affiliate links included below. Thanks for your support!
Then over at the athletic club we see Jack Abbott (Peter Bergman) having a meeting with Hilary Hamilton (Mishael Morgan). Hilary is curious to know why Jack is coming to her and Jack points out that they are a lot alike. They are both willing to take risks. So he throws a little proposition her way. He wants her to help him take Brash & Sassy down. He asked her to help him with his plan which as we know he is scheming to do whatever he can to put Brash & Sassy out of business to get back at his brother Billy Abbott (Jason Thompson). Billy Abbott is not going to go down without a fight. In fact, he and Victoria Newman (Amelia Heinle) are coming up with their own plan to stop Jack in his tracks. Make sure to stay tuned to CBS's "The Young and the Restless" because you will not want to miss a moment of the action!