The Young And The Restless Spoilers: Sally And Chloe Pursue A New Venture, Darling Designer Baby Clothes?
The Young and The Restless spoilers and updates tease Sally Spectra (Courtney Hope) and Chloe Mitchell (Elizabeth Hendrickson) pursue a new venture. The original plan tossed around was to go into decorator room design, but they might be inspired by Sally's pregnancy and create darling designer baby clothes.
The Young And The Restless Spoilers – Readymade Models To Design For
Chloe has a young toddler, Miles Mitchell Fisher (uncast character) Sally's expecting a girl, Tessa Porter (Cait Fairbanks) and Mariah Copeland (Camryn Grimes) have Aria Porter-Copeland (Maddie and Millie Ingle).
Plus there's Abby Newman-Abbott (Melissa Ordway) and Devon Winters' (Bryton James) son Dominic "Dom" Phillip Newman-Abbott-Winters-Chancellor (River and Rainn Ware). That's a lot of baby models even with Sally's due date still a few months away.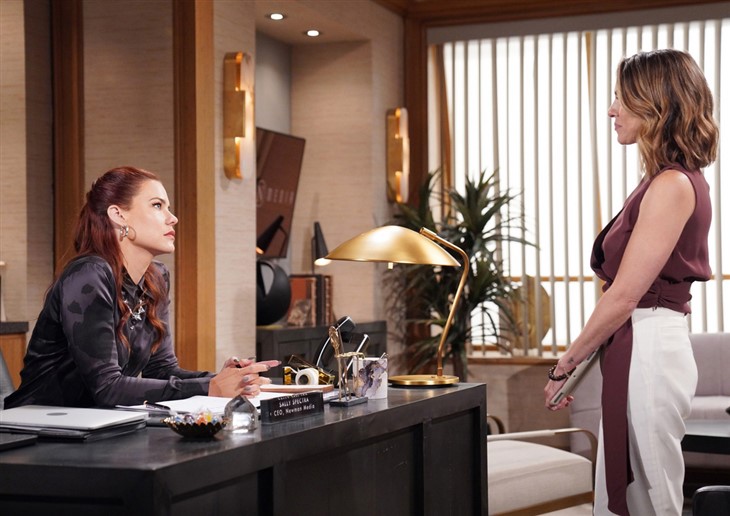 Sally doesn't remember anyone doing designer baby and toddler clothing, probably because they outgrow their clothes so quickly. There are some lines for older children once they get into school, mainly so they can be in style with their fashionista parents; but nothing for toddler down.
Y & R Spoilers – Not Their Main Work, But More Of A Test
This baby and toddler line won't be their main work, but more of a test-call it a demonstration line with the little ones as the models. They could use a toddler girl model so they may have to look around, but first things first.
They'll use Dominic and Aria for their baby line, and Miles for the male toddler clothes but design some for little girls as well. Once they get their toddler girl they'll start looking for "mothers" models to have a little presentation, since they can't just let them toddle and crawl around alone on a boardwalk!
They discuss some cute stuffed animal toys and maybe dolls, to match the designs on the clothing, and they'd have to have prototypes made of all of those as well.
The Young And The Restless Spoilers – Get The Ideas On Paper, Then Time To Make A Pitch
Chloe and Sally do a little minor market research before they put the ideas on paper, and then prepare to pitch for backing. The market they research are young mothers and especially those who like to be fashionable.
They ask Abby, Tessa, Mariah and a few grandmas to start with what they think of the idea, and of course all think it's adorable.
They do keep in mind in their proposal that babies and toddlers do grow quickly, and sell the idea as timeless styles with matching toys that will become family heirlooms. They also include matching parent and child sets to keep things more realistic.
Be sure to catch up on everything