The Young and the Restless Spoilers: Sharon Pressures Nick About His Feelings, He Snaps At Her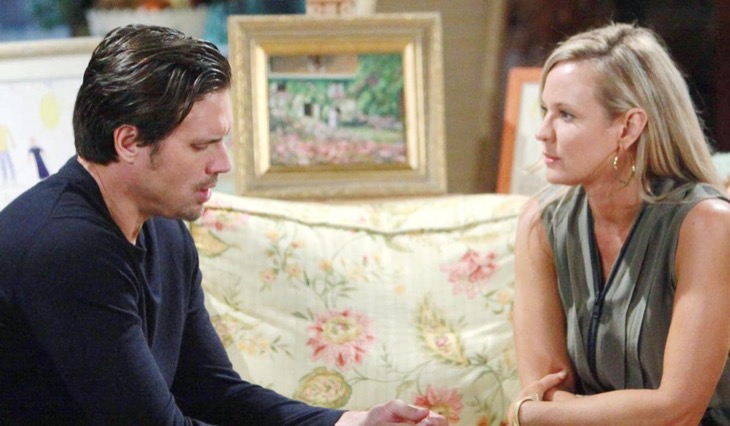 The Young and the Restless spoilers say that Sharon (Sharon Case) is doing whatever it takes to make sure that her relationship with Nick (Joshua Morrow) sticks this time. She also wants both of them to be in it for the long haul. And while Nick and Sharon are definitely getting hot and heavy with one another, even Sharon knows that she's stepping into a minefield. One wrong step might make their romance explode in her face.
According to CBS Soaps in Depth, viewers know that Sharon and Nick have been growing very close these last few weeks. Things have never been better for them. Yet, Sharon makes a wrong move when she tries to make Nick open up about his feelings for her. Nick feels as though Sharon is moving too fast and pushing him against a wall. As a result, he ends up snapping at her. He's been under a lot of pressure because of Victor's (Eric Braeden) accident and his hospitalization and he still feels unsure about sharing a future with Sharon.
The Young and the Restless producer Mal Young tells the publication, "Sharon's feelings are hurt when Nick snaps at her. However, she is also aware of how much stress he's been under since Victor's accident, so she tries to be understanding of what might be behind his outburst. Of course, understanding only goes so far! She hates Nick being like this with her."
LOVE Y&R? SUBSCRIBE TO OUR THE YOUNG & THE RESTLESS NEWSLETTER, HERE!
Sharon points out though that she came to Nick's rescue after Chelsea's (Melissa Claire Egan) portrayal. The last thing she needs is to be treated like a second-class citizen by him. This, of course, might make them grow further apart than closer together.
The Young and the Restless airs weekdays on the CBS network. Let us know what you think by leaving us a line with your thoughts in our comments section below. Also, don't forget to check back with Soap Opera Spy for all the latest news, updates and spoilers for The Young and the Restless and all of your favorite daytime television shows right here.
As always, more detailed spoilers and a full collection of pictures for the week in question will appear here, when there will be more clues and hints over exactly what's going on.
The Young & The Restless airs weekdays on the CBS network.
---
Read more news, spoilers, and gossip on our The Young & The Restless homepage
Want up-to-the-minute soaps news, spoilers, and gossip on your social feeds? Just hit 'Like' on our Facebook page and 'Follow' on our twitter