The Young and the Restless Spoilers: Victoria's Guilt Destroying Her, Nikki Worried About Getting Caught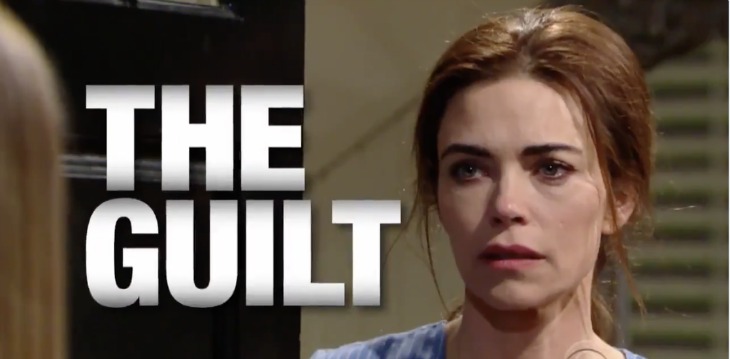 The Young and the Restless spoilers indicate that Victoria (Amelia Heinle) has a lot on her mind right now. She's dealing with a lot of emotional distress following the accidental death of J.T. (Thad Luckinbill) Victoria, Nikki (Melody Thomas Scott), Sharon (Sharon Newman), and Phyllis (Gina Tognoni) have all agreed to bury his body at nearby Chancellor Park and keep his death a secret. But Victoria is having a very hard time coming to terms with what happened.
During a lunch meeting between her and Nikki, Victoria can't contain her emotions. Actress Amelia Heinle, who plays Victoria on the hit CBS soap, recently told CBS Soaps in Depth, "At this point, Victoria is absolutely frazzled. She hasn't slept that much. She tells her mom that every time she closes her eyes, she sees dirt being thrown at JT."
Obviously, Victoria's conscious is killing her. But it's Nikki who urges her daughter to carry on with her life as usual in order to obtain an appearance of normalcy. Nikki even tells her to find a way to get past the guilt, no matter how hard it might be. For her, it's more important not to get caught than to worry about what Victoria is dealing with right now.
LOVE Y&R? SUBSCRIBE TO OUR THE YOUNG & THE RESTLESS NEWSLETTER, HERE!
Amelia further explains, "Victoria also has her kids to take care of and make sure their lives still seem normal, so there's another layer for her to deal with. On top of that, Reed is upset that his dad has disappeared and he's asking a lot of questions. Reed missing JT is making Victoria feel even worse."
The Young and the Restless airs weekdays on the CBS network. Drop us a line with your thoughts in our comments section below. Also, don't forget to check back with Soap Opera Spy for all the latest news, updates and spoilers on The Young and the Restless and all of your favorite daytime television shows right here!
As always, more detailed spoilers and a full collection of pictures for the week in question will appear here on Soap Opera Spy, when there will be more clues and hints over exactly what's going on.
The Young & The Restless airs weekdays on the CBS network.
---
Read more news, spoilers, and gossip on our The Young & The Restless homepage
Want up-to-the-minute soaps news, spoilers, and gossip on your social feeds? Just hit 'Like' on our Soap Opera Spy Facebook page and 'Follow' on our @soapoperaspy