The Young And The Restless Star Camryn Grimes Responds To Upset Fans Over Mariah And Tessa Kiss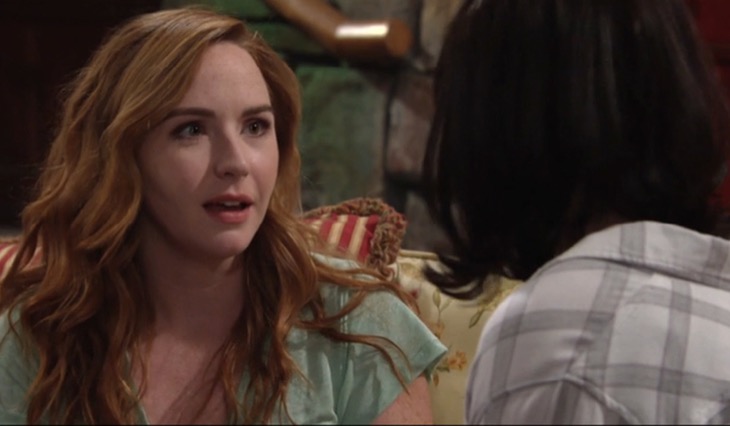 'The Young and the Restless' fans were in for a surprise during the August 3rd episode of the show, as Camryn Grimes (Mariah) and Cait Fairbanks (Tessa) shared a kiss that sent shock waves, not only through the characters, but throughout the show's very vocal fan base.
According to Soaps In Depth, the kiss has proven to be a lightning rod for controversy among said fan base, but Camryn Grimes and Cait Fairbanks seem to be pleased with the response they received online and on social media. Camryn even tweeted, "So many of you are giving me life! Your strength is power, progress, and potential. And I love you."
Cait also re-tweeted Camryn, and added, "Honored by the reaction of today's episode. Feeling the passion of the fans is very exciting. Thank you."
Of course, some fans of the show chose to be more vitriolic than celebratory over the Mariah and Tessa kiss, utilizing social media to express their (negative) sentiments. One even tweeted to Camryn Grimes that once the writers decide to make her character a lesbian on the show, that her time on 'The Young and the Restless' will come to an end. And her response? Well, let's just say she responded in the spirit of her character, tweeting back at that fan, "I managed to last 20 years and one death… I'll take my chances."
Camryn Grimes has been a fan favorite and certainly has made it through her fair share of mishaps and controversies on the show, and weathering the minor controversy surrounding her character's on-screen kiss will likely just be added to that list. In fact, the overwhelming response to the kiss was positive, but of course, social media tends to showcase both the positive and the negative to every fan response.
Now, we'll have to see what the kiss means on the show, since prior to it, Tessa had been getting close to Noah and Mariah had been getting close to Devon. But now that they've shared such a powerful and chemistry-laden moment, will they go back to their previous feelings or act on their new ones? And what will Camryn Grimes and Cait Fairbanks react in the future, if the controversy over this storyline continues?
What do you guys think will happen on the next episode of 'The Young and the Restless'? Let us know your thoughts in the comments below.