The Young and the Restless Weekly Spoilers December 31 to January 4: Cane Loses Control – Reed Confesses – Danger Lurks For Several GC Residents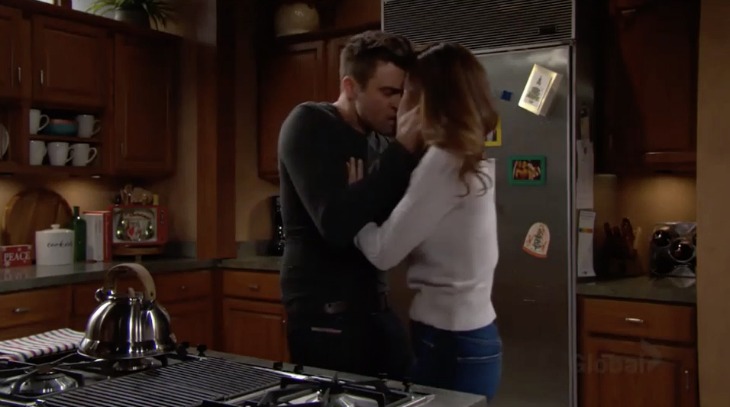 The Young and the Restless (Y&R) spoilers for the week of Monday, December 31, 2018, through Friday, January 4, 2019, reveal this coming week is filled with plenty of drama as one loses control.  Fury leads to an unexpected kiss.  A guilt-ridden confession causes unexpected results.  Dangerous situations occur as Genoa City residents fight and targeted.  Y&R fans will not want to miss out on all the excitement coming up, starting Monday, December 31, 2018!
Y&R sources show Devon Hamilton (Bryton James) decides to host a New Year's Eve party, but Cane Ashby (Daniel Goddard) loses control, getting drunk and causing plenty of drama.  Will Devon be able to help his brother-in-law who seems to be in a serious downward spiral lately?
Reed Hellstrom (Tristan Lake Leabu) can no longer contain his guilt and confesses that he was the driver who hit his own grandmother, Nikki Newman (Melody Thomas Scott).  Victoria Newman (Amelia Heinle) angrily confronts Cane, feeling his son, Charlie (Noah Alexander Gerry) is the one to blame for that accident; but it's clear the anger turns to passion after the two exchange some heated words and end up in a kiss.  Viewers of the CBS soap opera will see them promise to never mention it again, but we all know how things tend to happen with two lonely souls!
I guess Nikki is on some form of life support. It's interesting how the older members of the family seem to be trying to hold on to hope while the younger ones seem to think her death is inevitable. Reed's guilt has finally won over his self-preservation. #YR #TheNewmans pic.twitter.com/UAvAk4jlaR

— Antigonea (@antigonea) December 25, 2018
The Young and the Restless (Y&R) spoilers reveal Christine Blair Williams (Lauralee Bell) is set to put the infallible Victor Newman (Eric Braeden) behind bars, but will her determination be put on hold when Nate Hastings (Brooks Darnell), Nick Newman (Joshua Morrow) and Nikki are discovered to be gone?  It becomes increasingly clear that the plan to move Nikki from the hospital has gone terribly wrong when George pulls a gun on the three of them and brings them to a tiny airport in the middle of nowhere.  Fans shouldn't worry too much because it appears Nikki will take control and handle the problem like she always has!
In other Y&R spoilers, Abby Newman (Melissa Ordway) gets tired of Mariah Copeland (Camryn Grimes) and loses her cool with her "niece" this week.  What causes Abby to snap on Mariah?  A familiar fan favorite, Jess Walton returns as Jill Fenmore Atkinson towards the end of the week, spending time with Cane, who finally reveals what he's truly going through.
Be sure to tune into CBS' The Young and the Restless (Y&R) on Monday, December 31, 2018 to catch up on all the exciting stories happening right now in Genoa City.  Check Celebrating the Soaps often for updates, news, rumors, and spoilers!
Read more Celebrating the Soaps news, spoilers, and gossip on our The Young & The Restless homepage