The Young and the Restless (YR) Poll: Is J.T.'s Storyline Believable?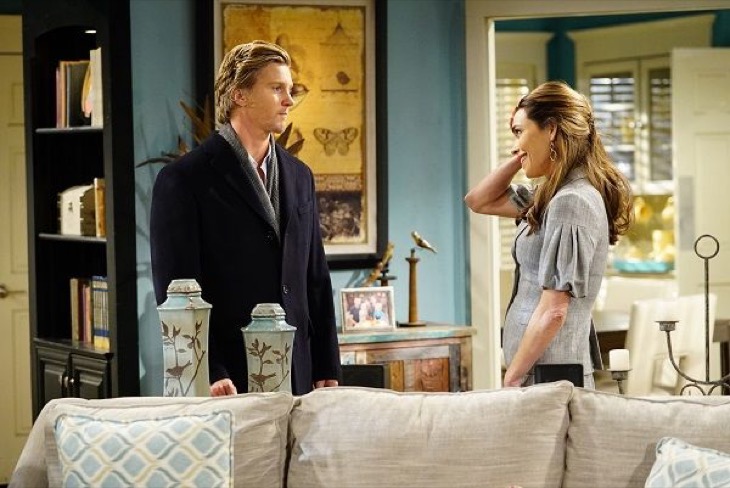 Has J.T. (Thad Luckinbill) been that masterful at hiding his dark side on 'The Young and the Restless'? That question can arguably be answered in the negative. But has the entire J.T. storyline been believable?
Many people can surely relate to one-half, or both halves of a relationship not being balanced. Said dysfunction then eventually leads to an ending, or should.
There is an issue with the storyline that Luckinbill returned to Y&R to work through after his seven-year absence. It is worthwhile to debate, if not conclude, that it's not believable.
Yes, it is fair to present anyone as having changed over time. Possibly, J.T.'s mind, not just his heart, was also damaged when he was electrocuted in years past. Maybe as a result of his physical issues, he's not been on the right medication has been taking too much medication, or is purposely using alternative drugs. Any scenario could be causing to behave both erratically and violently, at times.
This is soap, so his multiple attempts to kill Victor (Eric Braeden) will be seen within the context of the overall storyline. Viewers have been asked to do as English poet and literary critic Samuel Taylor Coleridge suggested and suspend disbelief in order to accept a fictionalized story.
The idea that anyone could go off the rails is seen in the real world. In various instances, those withing those misguided soul's worlds attempt to stop the train wreck. But what have the Newman's done to-date?
Victor, the proposed mastermind of Genoa City, put himself in the position of being alone at the Ranch the night he caught J.T. snooping. That mistake proved tragic, as Victor was thrown down the stairs, went into a coma and now had a stroke, which allows J.T. to maintain his cover.
LOVE Y&R? SUBSCRIBE TO OUR THE YOUNG & THE RESTLESS NEWSLETTER, HERE!
Among all characters, Y&R fans must think that Vickie (Amelia Heinle) would have recognized that J.T., not 'J.T.V.', is the problem by now. She was previously married to J.T. and did take Mackenzie's (Kelly Kruger) advice by going with Mr. Hellstrom to a relationship counselor.
However, the moment J.T. grabbed her neck and pushed her to the wall, any questions should have ended. Counters to that conclusion that suggest many people would provide mental cover for said acts of aggression overlook the point that 'J.T.V.' just reformed. They haven't been together for years and Billy (Jason Thompson) is likely her soul mate.
Vickie isn't that desperate for love, is she? Apparently so because that's what Y&R is asking fans to accept. In so doing the rest of J.T.'s storyline would be allowed to play out, including the crimes he's committed against Victor.
Fans of 'The Young and the Restless' rightfully express their opinions on a regular basis. So, is J.T.'s storyline believable? Please vote in our poll below!
As always, more detailed spoilers and a full collection of pictures for the week in question will appear here on Soap Opera Spy, when there will be more clues and hints over exactly what's going on.
The Young & The Restless airs weekdays on the CBS network.
---
Read more news, spoilers, and gossip on our The Young & The Restless homepage
Want up-to-the-minute soaps news, spoilers, and gossip on your social feeds? Just hit 'Like' on our Soap Opera Spy Facebook page and 'Follow' on our @soapoperasp