The Young and the Restless (YR) Spoilers: Vickie and Billy's Family Fun Hints Hard At Villy Reunion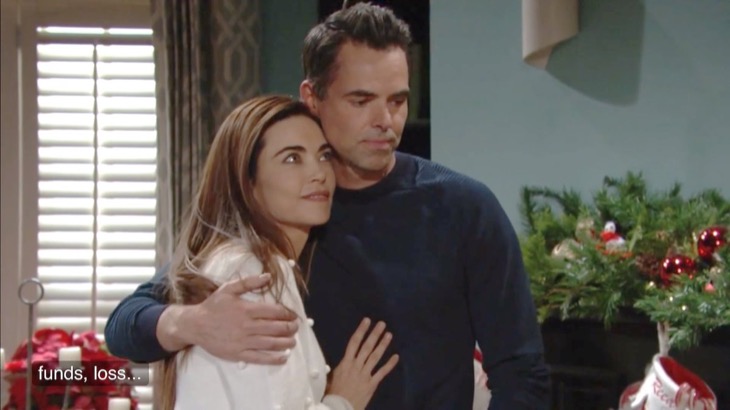 Billy (Jason Thompson) was so right to push Vickie (Amelia Heinle) off that needless business call on 'The Young and the Restless'. She was fully ready to blow off the kids and be like her father, working on Christmas, or any other holiday, under the theory of providing future family rewards. That scene, following a series of recent others, winks hard at a 'Villy' sequel.
Is another pairing of Vickie and Billy smart? Should the duo's nickname be switched to 'Bickie' in order to demonstrate a balancing of the relationship and as a bet (yes, that is a wink at Billy's gambling issue) against simply revisiting past versions of this couple, which didn't endure?
Let's address the wisdom of this proposed revival. More important and meaningful than any interpersonal chemistry are the two children who Billy was pointing to when he shushed Vickie off her Newman issued smartphone while their young children were amazed by a bounty of presents under a resplendent tree.
Touch me and tease me. ❤️😘 #Villy #YR pic.twitter.com/dAY3our2gt

— Shayma Shahshah (@Shaymashahshah) December 27, 2018
Vickie's open selflessness and compassion caused her to adopt Chelsea's (Melissa Claire Egan) child and to fully become Billy's son's (Johnny, Ryan and Holden Hare) mother in every sense of the word. 'Villy's' daughter, Katie (Sienna Mercuri), also reaffirmed the love that Vickie and Billy share and will always maintain.
As far as nicknames go, who cares! Tagging this pair with either won't influence anything, as love isn't luck. Instead, this feeling is a representation of the eternal feelings Vickie and Billy share for each other. Their family, meaning both characters and their children, which also includes Reed (Tristan Lake Leabu), is all the evidence one needs to believe 'Villy' the next sequel should be greenlighted.
Billy's genuine, father-figure presence in Reed's life will surely help as the coming hit-and-run issue is revealed and handled. He'll also be there for Vickie when the cover-up crew's actions are addressed.
There appears to be no better time within the past handful of years for both parties to try 'Villy' again. Doing so won't be only about the past. Vickie and Billy's now and tomorrow also matters.
Soap Opera Spy is a leading source for everything linked to 'The Young and the Restless'.