Young and the Restless Spoilers: Nikki Unable To Remain Silent – Victor and Nick Won't Go To Prison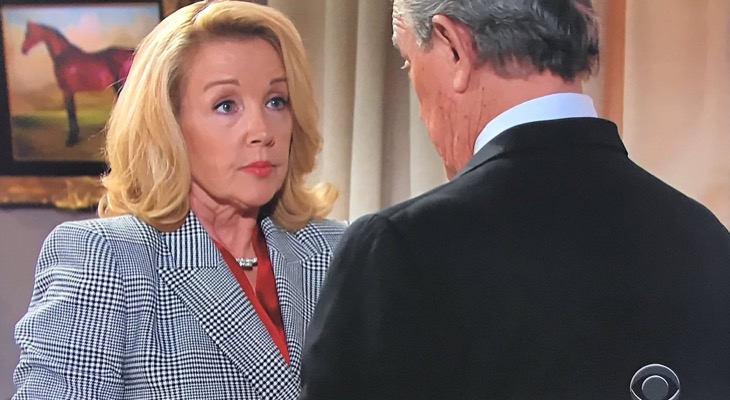 Nikki (Melody Thomas Scott) knows she has to come clean on 'The Young and the Restless'. Not doing so will lead to ongoing legal trouble for her husband, if not also her son.
Victor (Eric Braeden) and Nick (Joshua Morrow) won't go to prison if Nikki tells Rey (Jordi Vilasuso) what really happened the day J.T. (Thad Luckinbill) accidentally died. Accidental is the keyword that should have been ruling her mind during that harrowing mid-April 2018 day. It didn't, Phyllis (Gina Tognoni) led the charge to conceal the truth and so the tenuous situation the Newman family finds itself in exists.
Mrs. Newman hasn't been dealing with the guilt of having stopped Mr. Hellstrom for the past, nearly ten months. No, she's always been fine with having instinctively defended her daughter, Vickie (Amelia Heinle), from the normal man who was turned into a monster by Y&R.
Would it have far more believable and best for soapy history's integrity to have someone other than Luckinbill's character go off the rails within this storyline? Yes.
Spoiler pic:
Nikki and Michael.#YR pic.twitter.com/sOCyApFF3I

— tarabelle. (@xociaobellaa) February 8, 2019
But the back office choice was made to play this pushed topic out extremely far and then to have Scott's actually heroic character go rogue herself throughout last summer and into the fall, committing various crimes along the way. That served to lessen Nikki's laudable defense efforts of last April. In effect, two characters were lowered, when neither had to be.
So, here's Nikki now. If she remains silent, as her husband and son want her to, and no miraculous counter-argument can be presented by Michael Baldwin (Christian LeBlanc), then Victor is likely to be convicted and sent to prison for an untold number of years. Nick could also serve time behind bars, based on a now available digital audio file, if Christine chooses to press hard.
If Victor and Nick actually get to the point where they are doomed, then Nikki will have no choice but to admit her guilt and face major consequences. Based on the many layers of this immense storyline to-date, fans won't be surprised if that plot path is taken and they're still watching this arc next month.
Celebrating the Soaps is a leading source for everything linked to 'The Young and the Restless'.
Read more Celebrating the Soaps news, spoilers, and gossip on our The Young & The Restless homepage
https://www.youtube.com/watch?v=NM_HtT9sSVU