Young and the Restless Spoilers: Tristan Lake Leabu's Performance Kills – Y&R's Complex Tale Builds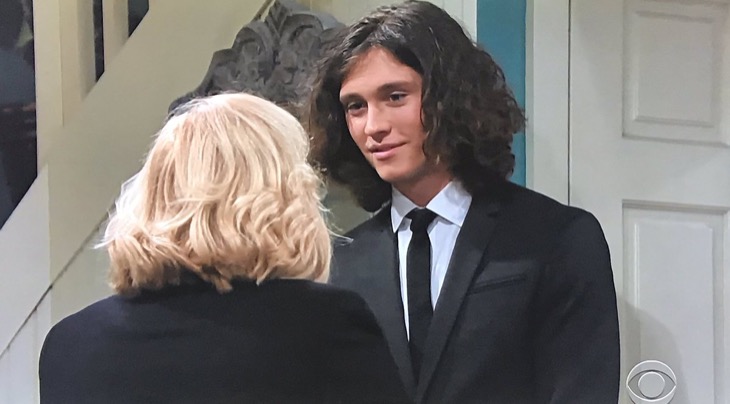 Scores of terrific performances have been delivered on 'Young and the Restless' during the entire J.T. (Thad Luckinbill) Dies storyline. Since his return last month, Tristan Lake Leabu's (Reed) performance ranks with them as a killer.
It's always noteworthy when a young actor delivers in the daytime. In this instance, Leabu was written out last spring, after Luckinbill's character was apparently taken off this earth by Nikki's (Melody Thomas Scott) poker, which just magically appeared at the foot of the fireplace at the Ranch.
Vickie's (Amelia Heinle) sending of 'JTV's' son to a musical school shortly after the infamous night in question was paired with the cover story that J.T. left town due to intense personal issues. In fact, Vickie sent Reed away because his dad was accidentally offed by Nikki. The "Fearsome Foursome", a term Y&R wrote into Heinle's dialogue in recent months as an implied counter to all the nicknames that were created about the four-lady group, then buried J.T. in Chancellor Park.
REED SMASH #YR pic.twitter.com/LFxHAZburt

— FridayInCanada (@FridayInCanada) January 12, 2019
Writing Leabu's alter ego out was necessary to allow this storyline to extend from last spring through this winter. Reed's natural desire to learn about his father's whereabouts had to be pushed toward the end of this arc. Allowing the departed Mr. Hellstrom's first-born to have remained in Genoa City was likely seen as a barrier to this tale's believability.
The painful revelation Reed gained about his father's actual fate was initially tied to his conflicted feelings about Victor's (Eric Braeden) arrest, on the suspicion of being J.T.'s murderer, and Nikki's accident outside of the GC Athletic Club that he'd caused. However, the range Leabu displayed after Reed learned that his dad had an unknown stark side topped his recent, great work and was quite simply outstanding.
The public horror show Phyllis (Gina Tognoni) believed needed to happen during J.T.'s memorial service in Vickie's living room cut Reed's heart. Not only was the intention of honoring his dad dashed, but he also learned that his mother had been hiding emotional scars from him for many months.
Great soap allows fans to invest in the characters within each story. Sharp writing and solid production merely gives talent a chance to do well. Within this long arc, viewers have seen truly memorable performances. As part of them, young Mr. Leabu continues to earn deep respect from the audience for what he's contributing as part of a stellar cast.
Soap Opera Spy is a leading source for everything linked to 'The Young and the Restless'.