Young and the Restless (YR) Rumor: Summer's Stunning Generosity Helps Reclaim Kyle's Love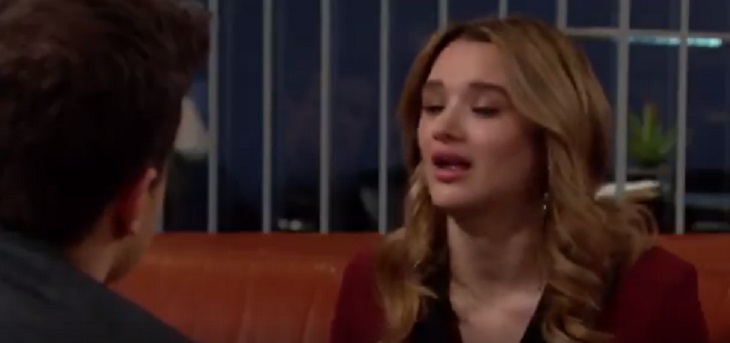 Summer (Hunter King) has hardly been selfless since her transformation on 'The Young and the Restless'. That took place when when this character was written back into the show last June. Now, the potential of her stunning generosity may help to reclaim Kyle's (Michael Mealor) love.
During these pressured days, Kyle fully believes that he loves Lola (Sasha Calle) like no one else. And that's true. But a part of his heart is still taken by Summer, which means the option of a 'Syle' revival shouldn't be discounted.
In need of a liver donor and with various potential matches being ruled out as the days count down, some breakthrough needs to happen. It would seem highly unlikely that Y&R would kill off Calle's endearing character months after Lola made her debut in Genoa City. Assuming she survives Mia's (Noemi Gonzalez) mistaken identity attack, a donor match will be found soon.
Having Summer make this offer is good all on its own. That plot point could prove enough to help her win Kyle back, eventually.
However, if this intriguing storyline is fully developed, Summer's immensely generous donation of half her liver to Kyle's current girlfriend has tremendous potential. Sure, in the intermediary period, Mealor's alter ego will stay fully smitten with Lola. As she recovers, he'll remain by her bedside, aid in her recovery and 'Kola' will appear to be fine.
But if Summer proves to be Lola's liver donor a moment will arrive when Kyle and Lola have another one of their disagreements, after which they'll take a break, or split. By then Summer won't need to pursue Kyle after having earned his total respect. He'll go to her willingly, with King's evolving alter ego rising to a perceived higher spot on the desirability scale than Lola's.
Young And The Restless News: Mark Taylor Talks About His Guest Stint On The Soap https://t.co/itVDNbnBp5 pic.twitter.com/iejPMGCbGJ

— SOS/CTS/HH (@SoapOperaSpy) February 28, 2019
If pursued, this projected twist would see Kyle shift his emotions to Summer. A reality that seemed impossible since King first returned to the cast. Then, anything would be possible.
This site is a leading source for everything linked to 'The Young and the Restless'.
Read more Celebrating the Soaps news, spoilers, and gossip on our The Young & The Restless homepage