Young and the Restless (YR) Spoilers: Phyllis Reconsiders Philly – Nick's Feelings Put Billy Back In Game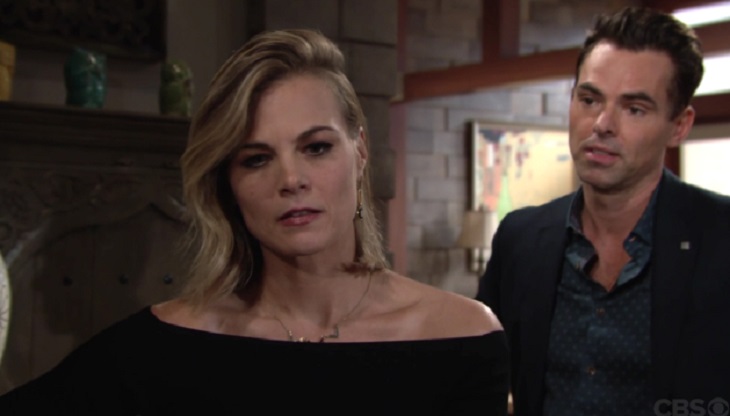 'Philly' again on 'The Young and the Restless'? Maybe. This seemingly ended couple might live again because of Nick's (Joshua Morrow) ongoing feelings about Sharon (Sharon Case).
Phyllis (Gina Tognoni) has been the other woman. But this time the other woman is Sharon. Whether that actually results in 'Phick' collapsing, weeks after its reboot is hard to tell. But the revived 'Red' knows that Nick isn't her only option and that Billy (Jason Thompson) hasn't had enough time to move on.
Young And The Restless Spoilers – Philly Was Working
Billy has always needed a woman in his life. He's a romantic, but also a clinger. He's needed to be patted on the head and told that he's the greatest by some impressive woman throughout his adult life. Most recently that person was Phyllis.
As Y&R fans recall, the origin of 'Philly' began during the last days of Burgess Jenkins, who played Billy just prior to Thompson. That dates this arc back to the tail end of 2015, as Thompson became the Billy recast in January 2016.
Three years is a long enough period of time for Phyllis and Billy to have formed a relationship that mattered. Yes, some fans were initially opposed to this couple being together. They were naturally opposed to the union because the iconic versions of Phyllis (Michelle Stafford) and Billy (arguably evidenced by Billy Miller, who was given many epic storylines) would have never, repeat never in a million years, been together.
Young and the Restless Weekly Spoilers December 3 to 7: Surprise Returns -Troubling News – Odd Alliances Form @celebratesoaps https://t.co/mbAeGS6dKr #YR

— CelebratingTheSoaps (@celebratesoaps) December 3, 2018
Tognoni and Thompson made 'Philly' work. They are both solid actors and the chemistry created was real. Whether Y&R opts to resurrect this duo that seemed to have been dashed this fall is unknown. However, if it does, the marriage proposal Phyllis accepted at 'Shick's' non-remarriage needs to happen in order to further the three-plus year arc.
Young And The Restless Spoilers – Nick Not Over Sharon
Nick has Phyllis living with him a month after he almost remarries Sharon. Yet, he's not over the one true love of his life, which Phyllis understands.
As for Billy, who knows what he'll do. He cares for Phyllis, but sports an erratic personality. And as Tognoni's character knows, like Nick, Billy also has a true love who isn't named Phyllis. Billy's brother, Jack (Peter Bergman), is the only one who holds Phyllis above all others.
A 'Phack' revisit isn't currently on the soapy horizon. Phyllis should actually be considering that.
Soap Opera Spy is a leading source for everything linked to 'The Young and the Restless'.