Young & The Restless Spoilers Thursday, August 31: Phyllis Flies Into Jealous Rage – Billy & Victoria Prepare for War – Chelsea and Faith Struggle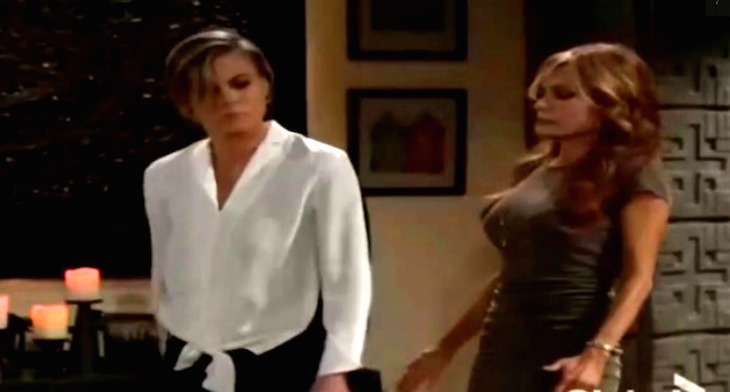 "The Young and the Restless" spoilers for Thursday, August 31st tease that Faith Newman (Alyvia Alyn Lind) will still be struggling with all the change that has recently taken place in her life. Not only Faith, but Chelsea Newman (Melissa Claire Egan) is still trying to adjust as well. It still has not been mentioned that Victor Newman (Eric Braeden) kicked his son out of the tack house and that is why they are there in the first place.
Related: Nikki Encourages Nick To Make Amends – Mattie Upset – Sharon Informs Paul
Chelsea and Faith will sit down to have a talk. Chelsea is trying to do the best that she can at making Faith feel comfortable in her home. Their conversation does not go well; Faith will be upset and still wants to go back to the ranch. Chelsea will not be sure how to respond to Faith, but luckily Nick Newman (Joshua Morrow) is not far away and will cut into their conversation. Nick just wants everything to work out positively and for everyone to be happy. Do you Y&R fans think Faith will eventually give in and quit fighting them on this?
Related: Jordan Says He's Single – Chelsea Warns Hilary – Victor Surprises Abby
Meanwhile, Phyllis Abbott (Gina Tognoni) will show up at Michael (Christian LeBlanc) and Lauren Baldwin's (Tracy E. Bregman) place; she will have a hissy fit over the fact that Victoria Newman (Amelia Heinle) and Billy Abbott (Jason Thompson) have been spending so much time together at work. She says that she has had it with Billy's ex-wife, but little does she know there is a lot more to come! Victoria will go after what she wants and that is Billy!
Affiliate links included below. Thanks for your support!
Over at Brash & Sassy, Billy Abbott tells his ex-wife and co-worker Victoria Newman that he was able to get into Jabot's server and that his brother Jack Abbott (Peter Bergman) has plans to smash them to bits. Victoria is happy that Billy discovered this before it was too late and now the war will be on! Victoria and Billy will do whatever they have to so that they can save Brash & Sassy and if that means taking on Jack Abbott than that's what they are going to do! So it appears things are about to get a whole lot more interesting on "The Young and the Restless" so make sure to stay tuned!