Emmerdale Spoilers: Olivia Bromley Promoted As Regular, Dawn's Past To Be Explored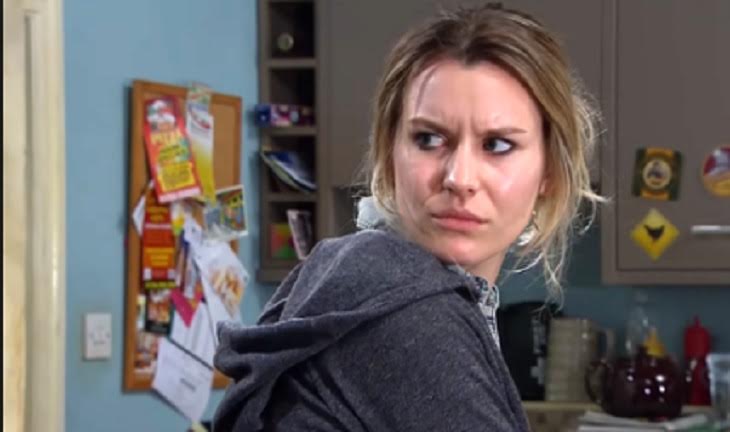 After her on and off screen appearance, the show's bosses promotes guest star Olivia Bromley to a regular cast member of Emmerdale.
Olivia reprised her role as Dawn for a storyline with Pete Barton and Rhona Goshkirk. She made her comeback as the mystery intruder who ruined Rhona and Pete's date after she broke into Dale View, which was left empty by Ross Barton. She also played a role in Ross Barton's acid attack storyline.
A show source revealed that Olivia portrayed her character well enough to impress the show's team. Since she's been doing a great job, the show's bosses have come up with interesting plans for her character in future stories.
When asked about the plans to explore Dawn's past, Olivia said she's happy that the show's fans will get a glimpse of who Dawn really is. Although the her character returned into the show to support Ross' acid attack storyline, Dawn was also going through a lot like being abused, her addiction to drugs, and getting involved with a pimp.
"It was clear from the beginning that her heart was in the right place, but we never really got to understand why she was in that situation. I think it is really important to see why this vulnerable woman is where she is. I think there will be a deep dive into this woman – into a place where she is trapped in a cycle of addiction and understanding how someone can get themselves into that position. But also how she survived and maybe how she'll be able to get out of it with help and support," Olivia added.
CLASSIC #CHRISTMAS CLIP: What a dramatic year in the Village – Diane's almost-affair with Billy, Rosemary's murder, Matthew's release from prison & Perdy's leaving of Grayson #Emmerdale pic.twitter.com/BwzJMkqqqG

— Emmerdale (@emmerdale) December 11, 2018
Speaking about what's next for Dawn in 2019, Olivia believes that Dawn will continue making mistakes and causing trouble for other characters and herself. She also said she's excited and hopeful with the big things and drama that's waiting for Dawn in the series. Fans will surely enjoy Dawn's storyline. She also hinted that something good will come out from all the bad things that's been happening to and around her.
Viewers will get to know more about Dawn as next week's episode reveal a mystery connection between her and local vicar Harriet Finch.
Want up-to-the-minute soaps news, spoilers, and gossip on your social feeds? Just hit 'Like' on our Facebook page and 'Follow' on our Twitter account.