B&B Recap And Spoilers Friday, August 4: Steffy Leaves Finn, Sheila Enjoys Her Freedom, Li Blasts Finn
The Bold And The Beautiful spoilers for Friday, August 4 indicate that Steffy Forrester (Jacqueline MacInnes Wood) tells John "Finn" Finnegan (Tanner Novlan) that she cannot trust him to keep her and the kids safe. Finn begs Steffy not to leave.
Liam Spencer (Scott Clifton) thinks about his relationship with Steffy. Sheila Carter (Kimberlin Brown) and Deacon Sharpe (Sean Kanan) are in bed together. Deacon is so glad Sheila is free.
The Bold And The Beautiful Spoilers – Deacon Sharpe Is Happy Sheila Carter Is Free
Deacon is glad that Sheila isn't stuck in prison anymore. Sheila isn't going to take anything for granted anymore. Sheila plans to make the most of her newfound freedom.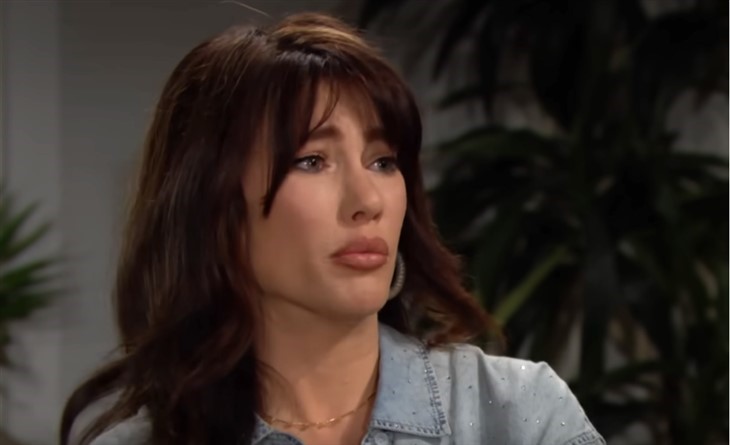 Deacon says only Sheila could have bested Bill Spencer (Don Diamont) by getting off on a technicality.
Sheila plans to get things back on track with her son. Deacon says he should know not to underestimate her. Sheila asks Deacon if she is wearing him out.
Deacon has been the only person that Sheila has been able to count on.
B&B Spoilers – Liam Spencer Learns That Steffy Forrester Left John Finnegan
The Bold And The Beautiful spoilers reveal that Liam thinks over showing Steffy that video and promises to keep her and the kids safe.
Steffy checks on the kids. Liam arrives at Eric's and wants to know why Steffy is at Eric's. Steffy tells Liam that something happened today. Steffy tells Liam that Kelly almost drowned. Liam demands to know if Kelly is ok.
Kelly comes running to Liam and tells him what happened and that Sheila rescued her. Steffy sends Kelly away to explain that Sheila saved Kelly.
Liam cannot believe that Sheila saved their daughter. Liam demands to know why Sheila was there.
Liam blames Finn. Liam is furious that Finn turned his back on Kelly. Liam wants to know what Finn's excuse was for hugging Sheila.
Steffy doesn't want to hear anymore. Liam says what could have happened today. Steffy tells him that Kelly is fine. Liam doesn't want Finn alone with Kelly anymore.
Steffy says that is why she came to Eric's. Steffy says she left Finn. Kelly wants to know why Steffy is crying. Liam promises to always keep them safe. Kelly hugs Steffy.

The Bold And The Beautiful Spoilers – Li Finnegan Is Upset With John Finnegan
Steffy says that Finn is the one who undermined her trust in him. Liam is just trying to protect her and Kelly Spencer (Sophia Paras McKinlay).
Steffy takes the kids and goes to Eric Forrester's (John McCook). Li Finnegan (Naomi Matsuda) arrives and Finn tells her that Steffy walked out on him.
Finn tells his mother what happened with Kelly and that Sheila was the one who saved her.
Li asked if that is why Steffy left and Finn told her yes. Finn was so grateful that he defended Sheila. Li wants to know if Finn is seeing Sheila differently.
All Finn is saying is that they could have lost Kelly if not for Sheila. Finn tells Li about hugging Sheila at the courthouse. Li says no wonder Steffy left him.
Be sure to catch up on everything happening with B&B right now. Come back here often for The Bold And The Beautiful spoilers, news, and updates.