B&B Recap And Spoilers: Monday, August 14: Steffy Refuses Finn, Liam Confides In Wyatt, Brooke Learns The Truth
The Bold And The Beautiful spoilers. for Monday, August 14 indicates that John "Finn" Finnegan begs Steffy Forrester (Jacqueline MacInnes Wood) to forgive him and come home.
Liam Spencer (Scott Clifton) thinks about the time he and Steffy spent with Steffy and their daughter. Brooke Logan (Katherine Kelly Lang) and Ridge Forrester (Thorsten Kaye) discuss his visit with Finn. Ridge wonders what happened that Finn could be so careless.
The Bold And The Beautiful Spoilers – Ridge Forrester Opens Up To Brooke Logan
Brooke says what happened to Kelly Spencer (Sophia Paras McKinlay) was awful but at least she is ok. Ridge says Kelly is ok because of Sheila Carter (Kimberlin Brown), he thinks it is because of Liam. Brooke questions how Finn can blame Liam.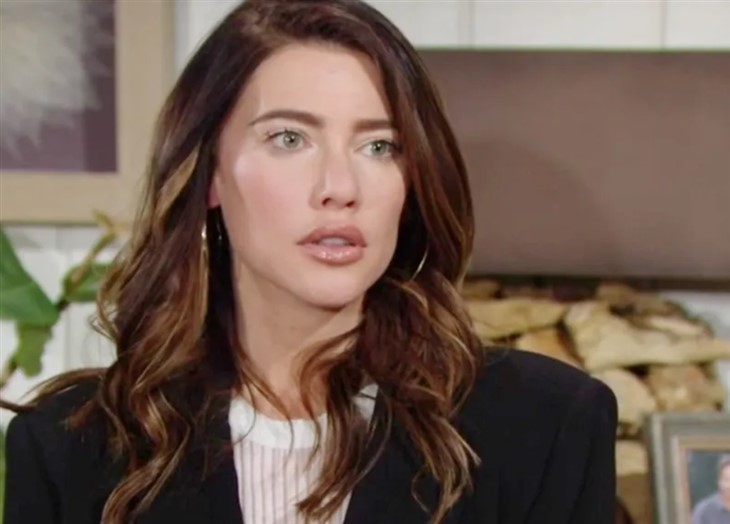 Ridge tells Brooke that Finn believes Liam is out to undermind his marriage. Brooke says Finn thinks that because of the video.
Ridge says that Finn thinks Liam is still in love with Steffy and he isn't wrong. Brooke is shocked that Liam admitted that. Ridge doesn't believe that Liam is trying to interfere in the marriage at all.
Ridge says the bottom line is that Liam loves Steffy. Ridge knows that Brooke is worried about Hope. Ridge says it is strange that both their daughters are struggling with their marriages.
Brooke says Hope was right all along. Ridge is glad to have his Logan back. Ridge says looking through that keyhole in Rome was the most amazing thing he ever saw. Ridge said he wasted money going all the way to Rome when his destiny was right there in front of him.
B&B Spoilers – Wyatt Spencer Learns About John Finnegan's Visit
The Bold And The Beautiful spoilers reveal that Liam tells Wyatt Spencer (Darin Brooks) about Finn's visit and warning. Wyatt questions if Finn came there and confronted him.
Wyatt asks what kind of idiot turns his back on a kid on the beach. Wyatt says that is funny since Liam and Steffy have a child together. Liam says he's not going anywhere.
Liam says the biggest mistake of his life was walking away from Steffy. Liam remembers telling Steffy how he feels about her. Liam remembers the kiss in Rome.
The Bold And The Beautiful Spoilers – Steffy Forrester Refuses To Return Home
Finn understands why Steffy did what she did but he will never let Sheila come near them. Finn asks Steffy to come home with him.
Finn offers to pack up the kids and get more surveillance and do whatever it takes to bring their family home. Finn promises not to contact Sheila again. Steffy and the kids miss Finn. Steffy hears Finn but this is very difficult.
Steffy can't get the image of Kelly being swept up by that wave out of her head. Steffy says Kelly is alive because of Sheila. Sheila has been like a dark cloud hanging over them since they got married.

Steffy cannot get the image of Finn hugging Sheila out of her head. Sheila will always be a part of their lives. Steffy cannot come home and put the kids in that dangerous environment.
Steffy remembers Kelly telling her what happened on the beach. Steffy is haunted by Finn telling her his mother saved her life.
Steffy remembers Liam telling her Finn cannot keep her and the kids safe. Finn returns to the empty cliff house and remembers his son's birth and other special times spent there. Steffy thinks about finding Finn in Monaco.
Be sure to catch up on everything happening with B&B right now. Come back here often for The Bold And The Beautiful spoilers, news, and updates.