B&B Recap And Spoilers Monday, May 22: Hope Begs Forgiveness, Taylor's Advice, Wyatt Encourages Liam
The Bold And The Beautiful spoilers for Monday, May 22 reveal that Hope Spencer (Annika Noelle) begs Thomas Forrester (Matthew Atkinson) to believe that she didn't mean what she said to Brooke Logan (Katherine Kelly Lang).
Hope believes that Thomas has transformed himself. Thomas has transformed how Hope feels about him too. Brooke looks over papers at work before remembering what Hope said to her. Taylor Hayes (Krista Allen) interrupts Brooke's thoughts.
Taylor asks if Brooke is ok. Wyatt Spencer (Darin Brooks) is on the phone working on a deal. Liam Spencer (Scott Clifton) interrupts. Wyatt asks how Thomas is doing.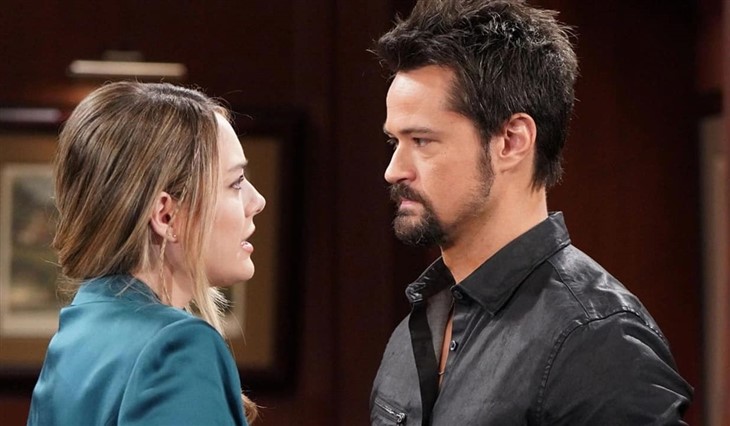 The Bold And The Beautiful Spoilers – Liam Spencer Confides In Wyatt Spencer
Wyatt asks Liam if he knocked out Thomas. Liam wanted to hear Thomas say something different. Liam hoped Thomas would put his concerns at rest. Wyatt wants to know how Liam is really holding up.
Wyatt says at least Thomas knows he is keeping an eye on him. Wyatt wonders if Thomas is just waiting it out. Liam accuses Thomas of manufacturing these situations.
Liam doesn't want to turn into a controlling husband. Liam says the one thing keeping him sane is Hope. Hope carves out time to appreciate Liam.
Liam says Hope's love for him makes him think Thomas won't be an issue again. Wyatt tells Liam to go with that. Liam is the only man that Hope wants.
Wyatt says Liam needs to start being more romantic with Hope. Liam questions why Hope is going out of her way to make this happen. Liam needs to show Hope that he trusts her around Thomas.
B&B Spoilers – Taylor Hayes Offers Brooke Logan Advice
The Bold And The Beautiful spoilers indicate Brooke doesn't know how to answer that. Taylor says Brooke can be honest with her. Brooke asks if this is her new bestie to the rescue.
Taylor asks if everything is ok. Brooke hopes so, it is about Hope. Taylor asks Brooke what is going on. Brooke was thinking about Hope's line and the changes that have been made. Taylor defends Hope and Thomas working together.
Taylor says Hope has a healthy work and life balance and knows what she wants. Taylor says Hope and Liam seem to be doing fine. Taylor knows Thomas has made choices in the past that he would never make today.
Taylor says Hope helped Thomas to get on the right foot. Brooke agrees that Thomas seems to have his act together. Taylor says Thomas is determined and he is winning back everyone's trust.
The Bold And The Beautiful Spoilers – Hope Spencer Tries To Apologize
Hope regrets what she says. Hope said things to undermine the relationship they have built. Hope tells Thomas he just doesn't get it. Hope tells Thomas about Brooke's misgivings.
Hope says Brooke has nothing to worry about when it comes to Thomas. Hope says she is the one, and Thomas encourages her to finish. Thomas knows what caused all of this and people coming to her causes her to worry.
Hope believes that Thomas is sincere. Thomas promises not to mess with Hope's marriage again. Hope believes in Thomas.
Hope says this Thomas is a good man and she would like to have him around for a very long time. Thomas says he wasn't supposed to hear what Hope said to Brooke.
Hope was trying to get Hope to see that there were no feelings between them. Thomas says there are feelings of gratitude between them. Hope gave Thomas his life back. Thomas owes everything he has to Hope.
Be sure to catch up on everything happening with B&B right now. Come back here often for The Bold And The Beautiful spoilers, news, and updates.