B&B Recap And Spoilers Thursday, March 23: Bill Urges Sheila To Answer, Deacon Stunned, Stephen Is Furious
The Bold And The Beautiful spoilers for Thursday, March 23 Sheila Carter (Kimberlin Brown) seems stunned by Bill Spencer's (Don Diamont) proposal. Bill is ready to be with someone who he can be real with. Bill is ready and hopes Sheila is too. Bill tells Sheila to say yes. Ridge Forrester (Thorsten Kaye) and the FBI Agent discuss the proposal. Stephen Logan (Patrick Duffy) questions what Ridge is up to.
The Bold And The Beautiful Spoilers – Sheila Carter Shocks Deacon Sharpe
Paul "Hollis" Hollister (Hollis W. Chambers) is at II Gardino with Deacon Sharpe (Sean Kanan). Hollis asks Deacon about his mystery woman. Deacon cuts Hollis off and tells him to get back to work. Sheila arrives at Deacon's to tell him about the proposal. Sheila tells Deacon that Bill really loves her. Sheila tells Deacon that Bill proposed. Bill wants her to be his wife. Bill wants her to be Mrs. Bill Spencer. Sheila asks Deacon if this is really happening. Deacon is stunned when he sees the ring.
B&B Spoilers – Stephen Logan Continues To Rant About Ridge
The Bold And The Beautiful spoilers indicate Brooke Logan (Katherine Kelly Lang) defends Ridge. Brooke doesn't understand why Bill says he loves Sheila or why he is with her. Brooke tells Stephen that Bill heard everything she said but wants to be with Sheila. Brooke admits that it is terrifying not knowing what Sheila could do next. Stephen believes Ridge should be home right now.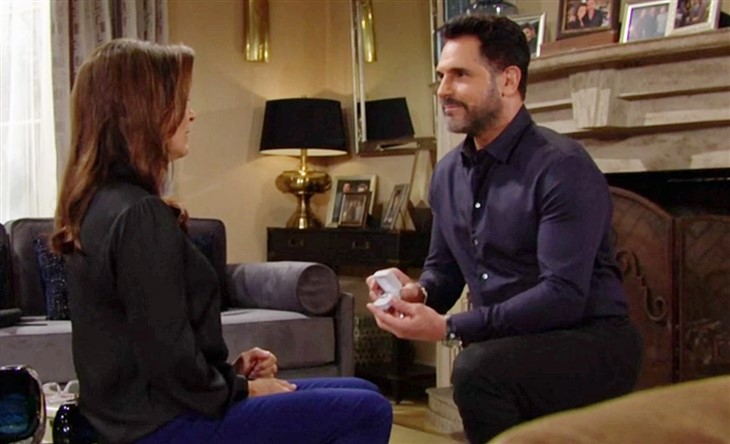 The Bold And The Beautiful Spoilers – Bill Spencer Tries To Sell His Proposal
Ridge keeps encouraging Sheila to say yes. Bill tells Sheila this means a lot to him. Bill says this ring means they can be open to each other about anything. Bill starts to put the ring on Sheila's finger and she pulls away. Bill asks if Sheila doesn't want a life together. Sheila never thought about being Mr. Spencer. Bill says this ring is a key they can use to walk into their future.
Bill says they can have a huge wedding or get married at city hall. Sheila wants to know what Bill is really talking about here. Sheila asks about a prenup. Bill says there isn't one, nothing but Bill's full and undying commitment to Sheila. Bill tells Sheila to put the ring on and move on with their future. Sheila tells Bill this comes as a surprise.
Sheila says there are times she looks at Bill and doesn't know what he is thinking. Bill says this is the first time in his life he has gotten to be his true self with her. Sheila says this is everything she ever wanted. Sheila needs a minute to think about this. Sheila says this will change her entire future. Sheila needs to go for a drive. Bill tells Sheila to try her ring on and see how it feels, he will be there waiting for her.
Sheila won't be long and promises Bill an answer. Sheila leaves. Bill watches Sheila walk away. Ridge cannot believe Sheila has fallen for any of this. Bill and Ridge argue about his proposal to Sheila. Ridge tells Bill that Sheila is at Deacon's. Bill is convinced that Sheila will confess to all of her crimes and they will have her right where they want her.
Be sure to catch up on everything happening with B&B right now. Come back here often for The Bold And The Beautiful spoilers, news, and updates.