B&B Spoilers: Hope & Thomas' Business Trip, Liam Stalks 'Thrope'?
The Bold and the Beautiful spoilers reveal that Hope Logan Spencer (Annika Noelle) agreed to work with Thomas Forrester (Matthew Atkinson) again. Hope is reveling in the partnership on her fashion line. However, Steffy Forrester Finnegan (Jacqueline MacInnes Wood) suspects Hope's feelings are more than just professional. If Hope and Thomas have to go on a business trip, will Liam Spencer (Scott Clifton) secretly follow them?
The Bold And The Beautiful Spoilers – Hope Logan Spencer's Excitement
B&B spoilers reveal that Hope felt conflicted about what to do about Steffy's business proposal. Due to Hope for the Future's low numbers, Steffy faced a tough decision. Instead of cutting the line, Steffy suggested that Hope work with Thomas again.
Hope spent some time thinking about Steffy's idea to save her fashion line. Hope even assured Liam that she wasn't taking Thomas back. However, that all changed when Hope actually told Steffy and Thomas her decision. Hope wasn't going to throw away her fashion line or give tons of employees pink slips. Now that Thomas and Hope are working together again, Steffy is making some curious observations.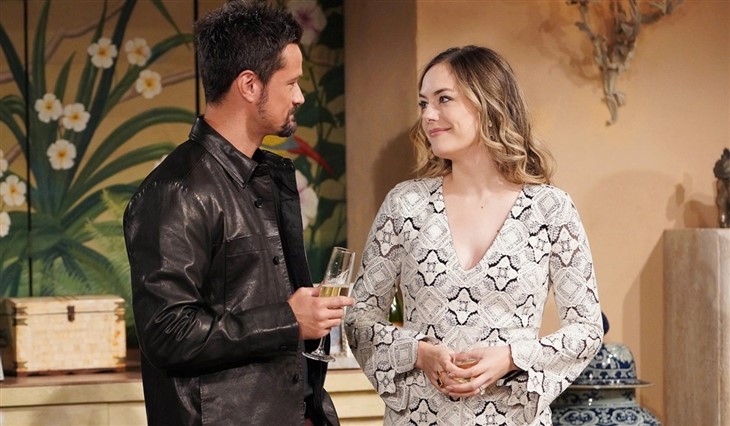 B&B Spoilers – Steffy Forrester Finnegan's Intuition
During a recent episode, Steffy questioned Hope about her feelings for Thomas. Hope thought Steffy's insinuation was ridiculous as she was happily married to Liam. Plus, Hope reminded Steffy that her dynamic with Thomas is strictly professional. However, Steffy had a flashback of Hope telling Paris Buckingham (Diamond White) that Thomas was hot.
Atkinson told Soap Opera Digest that Thomas is not obsessed with Hope. Despite what Thomas has done in the past, the actor insists that Thomas is truly trying to be a better man. While Thomas might just love his job, could Hope be thinking of Thomas in a new way?
The Bold And The Beautiful Spoilers – Thomas Forrester's Business Trip
The Bold and the Beautiful spoilers reveal that Hope is determined to get her fashion line booming again. That could require some business trips. Since the reviews mentioned Thomas by name, could Hope feel that her lead designer needs to tag along? It certainly is possible and Hope has gone on business trips before.
B&B Spoilers – Stalking 'Thrope'?
Even though Liam claims to trust Hope, he is concerned about Thomas. Despite Thomas' changes, history does tend to repeat itself.
So, could Liam be unable to sit still while Thomas and Hope are at a hotel out of town? Will Liam secretly follow "Thrope", only to get caught snooping by Hope? How will Liam explain himself, especially if Hope and Thomas aren't doing anything inappropriate? Share your thoughts and remember to keep watching the CBS soap to find out what happens next.
Be sure to catch up on everything happening with B&B right now. Come back often for The Bold and the Beautiful spoilers, news, and updates.