B&B Recap And Spoilers Wednesday, August 2: Sheila Praised, Liam Worries, Steffy Blasts Finn
The Bold And The Beautiful (B&B) spoilers for Wednesday, August 2 indicate that John "Finn" Finegan (Tanner Novlan) thanks Sheila Carter (Kimberlin Brown) for saving Kelly Spencer's (Sophia Paras McKinlay) life.
Steffy Forrester (Jacqueline MacInnes Wood) tries to call Finn and he doesn't answer. Liam Spencer (Scott Clifton) doesn't feel like he can trust Finn to protect Kelly.
The Bold And The Beautiful Spoilers – Sheila Carter Reveals That She Saved A Life
Deacon Sharpe (Sean Kanan) is thinking about his conversation with Sheila about visiting Finn. Deacon believes it will take a miracle to make Finn see the good in Sheila. Sheila returns to Deacon's and he lets her in. Deacon asks Sheila what happened. Sheila says she saved Kelly's life.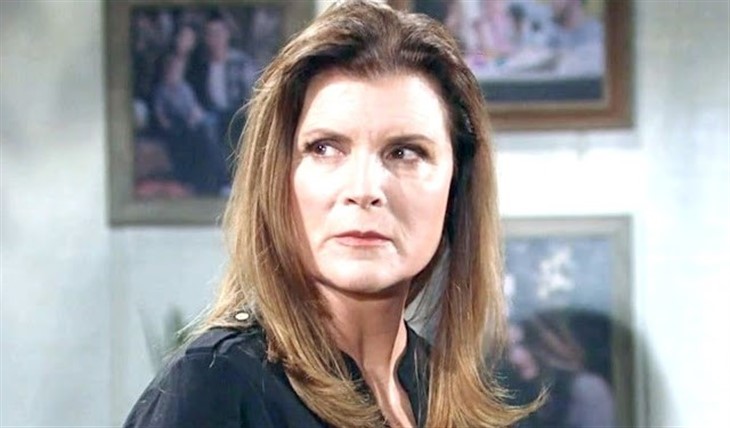 Sheila says she followed Finn and Kelly to the beach. Kelly went to the water and she lost her bucket. Kelly says Finn's mom saved her, not Li Finnegan (Naomi Matsuda), Sheila. Steffy looks stunned. Deacon thinks Sheila may forgive now that she saved Kelly. Deacon says Sheila may have pulled off the impossible.
B&B Spoilers – Liam Spencer Refuses To Trust John Finnegan
The Bold And The Beautiful spoilers Steffy cannot believe that Sheila is free. Steffy and Liam talk about all of the precautions they are taking again.
Steffy says they can't let everything become all about Sheila. Liam wishes he knew that Kelly was safe. Sheila has proven time and again how dangerous she is. Steffy promises Liam that she will keep the kids safe. Steffy tries to reassure Liam that Finn will protect Kelly.
Liam says Finn has feelings for Sheila that he isn't dealing with that could affect his judgment. Liam cannot put his trust in Finn. Liam loves Kelly and Steffy. Liam gets a call from the office and doesn't take it. Steffy tries to reassure Liam who turns it back on Finn. Steffy has to believe there is some kind of explanation because Finn has been loyal and loving to her.
Liam keeps thinking about the day Kelly was born. Liam says he knew his life would never be the same after Kelly arrived. Nothing else mattered but making sure Kelly was happy and safe. Liam says his job is to protect her too. Liam's gut is telling him that Finn is vulnerable to Sheila and he cannot allow Steffy and Kelly to pay the price for that.
Steffy promises to text Liam as soon as she hears anything. Steffy appreciates Liam's concern. Liam is at the office when Wyatt Spencer (Darin Brooks) arrives. Wyatt wonders if Steffy is going to make sure to keep the kids safe now. Wyatt is shocked that Steffy didn't have the same reaction that Liam did.
The Bold And The Beautiful Spoilers – Steffy Forrester Blasts John Finnegan
Sheila tells Finn he doesn't have to thank her for saving Kelly. Finn tells Sheila she has to keep her distance, he cannot see her. Kelly thanks Sheila for saving her again. Sheila tells Kelly to be more careful by the water. Finn and Kelly arrive and Kelly tells Steffy she almost drowned. Steffy wants to know how Sheila saved Kelly.
Finn tells Steffy he got a call from the hospital and turned his back for a moment. Steffy tells Finn he is never supposed to turn his back on a child at the beach. Finn explains that Sheila got to her first. Steffy demands to know what Sheila was doing there. Finn says Sheila did save Kelly's life.
Be sure to catch up on everything happening with B&B right now. Come back here often for The Bold And The Beautiful spoilers, news, and updates.