B&B Recap And Spoilers Wednesday, July 19: RJ Is Worried, Lope's Marriage Ends, Finn Visits Sheila
The Bold And The Beautiful spoilers for Wednesday, July 19 indicate RJ Forrester (Joshua Hoffman) is trying on a shirt for a new collection. RJ tells Ridge Forrester (Thorsten Kaye) that he is worried about Hope Spencer's (Annika Noelle) marriage.
Hope tells Liam Spencer (Scott Clifton) she is tired of Steffy being a fixture in their marriage and isn't putting up with it anymore. John "Finn" Finnegan (Tanner Novlan) is summoned to see a former patient. Mike Guthrie (Ken Hanes) tells Sheila Carter (Kimberlin Brown) she needs to prepare to be there for a long time.
The Bold And The Beautiful Spoilers: John Finnegan Must Visit Sheila Carter
Steffy Forrester (Jacqueline MacInnes Wood) tells Finn how proud of him she is. Steffy prepares to go to work as Finn promises to call his nurse back.
Finn is extremely upset to learn that he is required to go to the prison and visit Sheila. Finn tries to get out of this trip but they insist that he go. Finn agrees to go to see Sheila this one last time.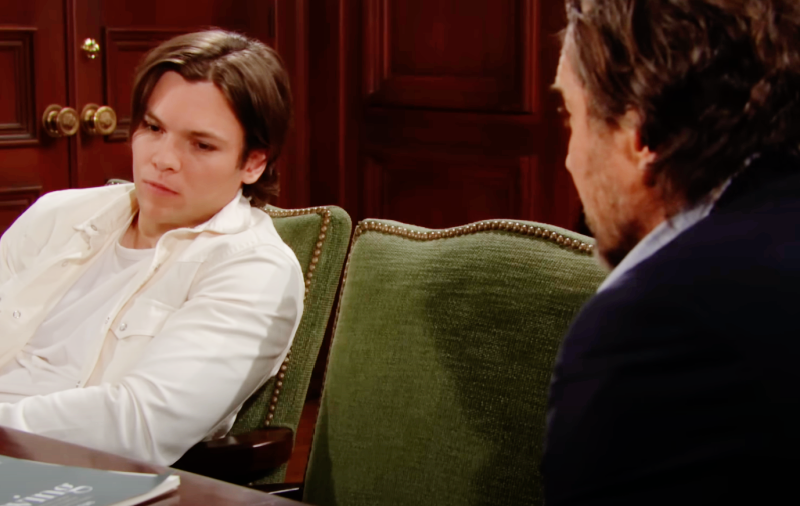 Sheila Carter Gets Her Wish
The Bold And The Beautiful spoilers Mike is convinced that Sheila won't get out of prison. Sheila asks if this is all that Mike wanted to see about. Sheila says her attorney isn't giving her any hope.
Sheila cannot face never being close to Finn or her grandson again. Mike has to go back to his cell. Sheila is told to stay, she has another visitor. Sheila is thrilled that Finn is there. Sheila is Finn's mother and will never stop loving him.
B&B Spoilers: Hope Spencer Is Tired Of Coming In Last
RJ tells Ridge that he talked to Liam about Hope and their marriage. Liam asks how they got from Thomas to Steffy. Hope says Liam loves Steffy.
Hope grew up with the same thing between Brooke Logan (Katherine Kelly Lang) and Taylor Hayes (Krista Allen). When Hope looks at Thomas she sees one hundred percent commitment and she doesn't see that with Liam.
RJ wishes he could be as hopeful as Ridge. RJ needs to step away for now and see what happens. Liam doesn't understand how this happened. Hope asks if Liam told Steffy that walking away from her was the biggest mistake of his life because she knows that is how Liam probably feels.
Ridge has to get off the phone and talk to RJ again. Steffy arrives and interrupts them. Ridge asks about Sheila's trial. Liam admits that he gave up his life with Steffy for her.
Liam asks if Hope feels she gave up something with Thomas. Hope apologizes and says maybe this was too much to overcome. Hope loves Liam and always will but this situation is not manageable.
Hope tells Liam he always wanted more time at Steffy's and here is his chance. Hope gives Liam the divorce papers. Liam seems shocked that Hope had the papers drawn up.
Hope loves Liam and knows he will continue to be a good father. Liam wanted a divorce and Hope took him at his word. Liam asks Hope if she is ready to walk away. Hope didn't want this but here they are. Hope wanted none of this.
Liam says maybe, Thomas. Hope says Liam will be free to live his life and she will be free to live hers. Hope signs the papers and hands them to Liam. Liam signs them and takes off his wedding ring.
Liam lingers for a few moments before going out the door. Hope picks up his ring and cries as she slides it onto her finger and back off again.
Be sure to catch up on everything happening with B&B right now. Come back here often for The Bold And The Beautiful spoilers, news, and updates.