Bold and the Beautiful Spoilers: Flo Finds Evidence Reese Is Using Her, Confronts him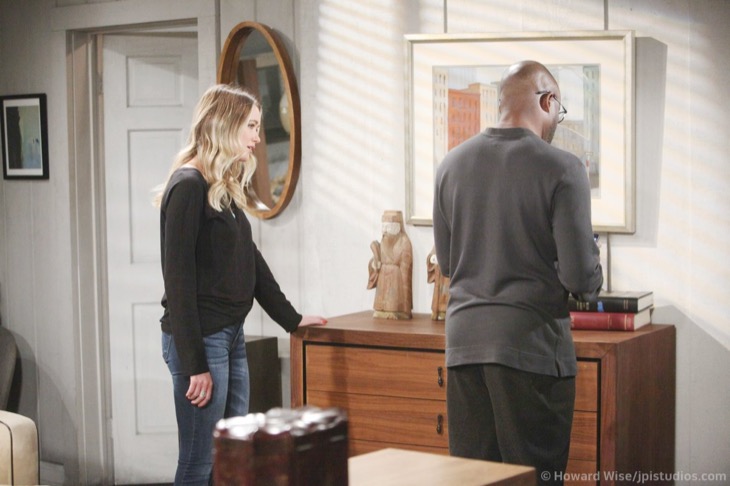 Bold and the Beautiful (B&B) spoilers for the week of January 21 tease that Flo (Katrina Bowden) will find evidence that Reese Buckingham (Wayne Brady) is using her. She will attempt to stop him in his tracks by confronting him. But is it too late to stop Reese's plan? Keep reading to find out what comes up next on B&B.
Flo Fears Being Used
Flo's worst fear is being used by Reese. She knows that he tends to use people for what he can get out of them, and she fears that is what he is doing to her. She stumbles on a piece of evidence that proves that he is using her. She feels conflicted on if she should bring it up to him, or just let it slide.
Flo Confronts Reese
After weighing her options for several days, Flo decides to confront Reese about the evidence she found. When she reveals what she knows to Dr. Buckingham, at first, he acted shocked. He questioned why she would doubt him. Then, when it was clear she wasn't buying his act, he strongly encouraged her to stick to the plan. He advised her the pay off in the end out be worth it.
LOL go with the flo 🤦‍♀️😄#BoldandBeautiful pic.twitter.com/wSp4g23T91

— melanie_bnb (@melanie_bnb) January 17, 2019
Flo Could Spill The Secret
The one person that could spill the baby secret is Flo. She may not know a complete truth but it wouldn't take much for her to figure it all out. However, she is unlikely to rat Reese out as she is knee-deep in the scheme too. And, then there is the little detail that it is clear she is in love with Reese.
Do you think Flo will expose Reese's plans? Don't forget to come back later for more Bold and the Beautiful (B&B) spoilers, news, and casting updates!
Want up-to-the-minute soaps news, spoilers, and gossip on your social feeds? Just hit 'Like' on our Facebook page and 'Follow' on our Twitter account.