The Bold And The Beautiful Preview: Bill & Ridge's Justice Scheme, Sheila's Reign Of Terror Ending
The Bold and the Beautiful spoilers for the week of March 20 reveal that a promo clip has been released. It shows Sheila Carter (Kimberlin Brown) talking to Deacon Sharpe (Sean Kanan) about their secret. Meanwhile, Bill Spencer (Don Diamont) and Ridge Forrester (Thorsten Kaye) watch and listen to Sheila on cameras in a secret surveillance room.
The Bold And The Beautiful Spoilers – Ridge Forrester's Return
B&B spoilers for the week of March 20 reveal that fans will see what Ridge has been up to his since "soul-searching" leave of absence. Fans assumed that Ridge did what Brooke suggested and left to take a hard look at his choices, especially regarding the heart. While Ridge did exit for a bit, it seems he has been focused on something other than Brooke and Taylor Hayes (Krista Allen).
Ridge has one goal in mind right now and that is to make Sheila pay for her crimes. Ridge isn't going to let Sheila get away with what she did to Steffy. Ridge doesn't just want Sheila to go to prison for a few years. Ridge wants to be sure that Sheila never has the opportunity to hurt anyone again.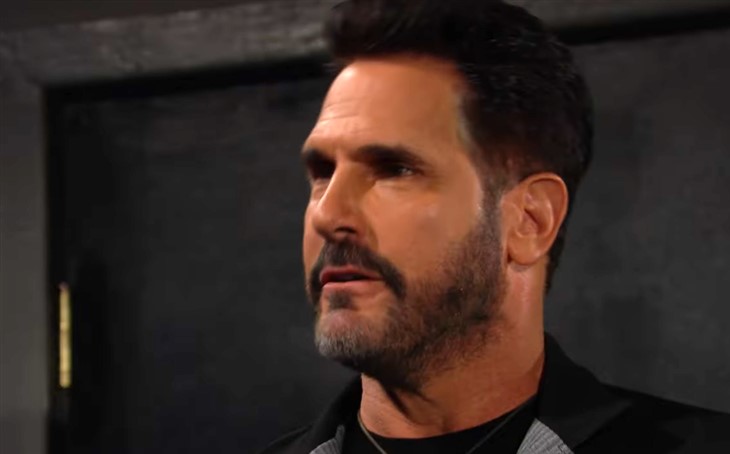 B&B Spoilers – Bill Spencer's Alliance
The promo clip for the week of March 20 reveal that Ridge recently made his return appearance. Fans knew that Ridge was coming back, but never expected him to look different. Plus, fans were shocked when Ridge and Bill's secret alliance was exposed. Now, only fans know about the alliance. While Sheila does fear that Bill suspects the truth, she has no clue that she is being closely monitored.
The Bold And The Beautiful Spoilers – Sheila Carter Panics
The Bold and the Beautiful spoilers for the week of March 20 reveal that the promo clip shows Sheila talking on the phone with Deacon. Sheila thinks that Bill is behaving oddly and wonders if he knows about her tryst with Deacon.
While Bill and Ridge are listening and watching to Sheila talk to Deacon on the phone, the villain panics. Plus, Deacon recently overheard Liam Spencer (Scott Clifton) and Wyatt Spencer (Darin Brooks) talk about Sheila and Bill. So, the plot is quickly thickening and it's getting really exciting.
B&B Spoilers – Week Of March 20
Other scenes that fans should prepare for during the week of March 20 include Bill taking another big step with Sheila. Could this be a marriage proposal? Will Bill and Ridge get their revenge on Sheila's wedding day?
It is also teased that Deacon will get protective with Hope Logan Spencer (Annika Noelle). So, we will have to see if Deacon targets Liam or Thomas Forrester (Matthew Atkinson). Deacon has never liked or trusted Thomas. On the other hand, Deacon might think that Liam needs to trust that Hope has both eyes wide open regarding Thomas.
Which storyline are you looking forward to seeing the most during the week of March 20? Share your thoughts and remember to keep watching the CBS soap to find out what happens next.
Be sure to catch up on everything happening with B&B right now. Come back often for The Bold and the Beautiful spoilers, news, and updates.