B&B Recap And Spoilers Wednesday, March 15: Bill And Ridge Alliance, Steffy Plays Dirty, Deacon Eavesdrops
The Bold And The Beautiful spoilers for Wednesday, March 15 reveal that Steffy Forrester (Jacqueline MacInnes Wood) will use Hope Spencer's (Annika Noelle) words against her. Deacon Sharpe (Sean Kanan) will overhear Wyatt Spencer (Darin Brooks) and Liam Spencer (Scott Clifton) talking about Sheila Carter (Kimberlin Brown). Bill Spencer (Don Diamont) and Ridge Forrester (Thorsten Kaye) are working together.
The Bold And The Beautiful Spoilers – Steffy Forrester Uses Hope Spencer's Words
Steffy and John "Finn" Finnegan (Tanner Novlan) are enjoying some alone time before he leaves for work. Steffy wonders how Liam took the news of having to work with Thomas Forrester (Matthew Atkinson). Steffy is worried about Hope. Steffy tells Finn what Hope had said about Thomas before. Steffy cannot just ignore this. Steffy thinks this could be trouble for Hope and Liam.
Steffy is worried about how this is going to affect Hope. Maybe there are other things under the surface. Steffy and Finn talk about all of the craziness with Bill and Sheila. Steffy and Finn need to lean on each other. Finn continues to stall instead of leaving for work. Finn knows Sheila will show up soon.
B&B Spoilers – Deacon Sharpe Eavedrops On Liam Spencer And Wyatt Spencer
The Bold And The Beautiful spoilers indicate Liam tells Deacon that Hope has rehired Thomas. Liam says Hope asked him to trust her and he is doing his best. Liam says Hope has promised to get rid of Thomas if there is an issue. Wyatt compares this to Bill and Sheila. Wyatt doesn't see how Bill could be like someone like Sheila. Deacon excuses himself but continues to listen while he daydreams about Sheila.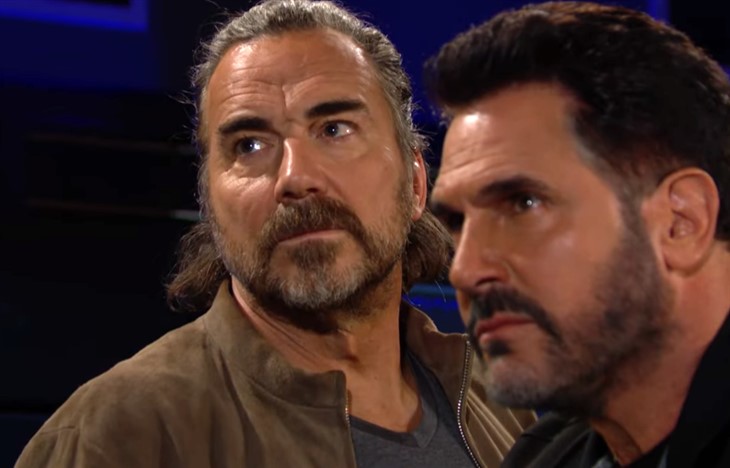 The Bold And The Beautiful Spoilers – Bill Spencer Is Working For The FBI And Ridge Forrester?
Bill and Sheila are at his lavish estate kissing before settling into an important conversation. Bill senses that Sheila is feeling antsy and wants to calm her down. Bill explains that he knows he has been a bit off lately and that is his fault. Bill is trying to be more open with Sheila and wants her to do the same with him. Sheila is the only person who understands the darkness that lives inside Bill. Sheila says Bill has done nothing like she has.
Bill and Sheila talk about some of the things he has done in the past. Sheila says she knows what Bill is trying to do. Bill has never felt so hopeful but he and Sheila can handle it. This will be healing for both of them. Bill says they cannot hide the things they have done. Bill tells Sheila she can tell him. Sheila says he's done things Bill can't even imagine. Bill talks about when Sheila first moved in. Bill has never been himself with anyone before.
Bill has told Sheila his worst and she is still there. Bill says Sheila will never be emotionally free until she tells him everything. Bill knows Sheila isn't a saint neither is he. Bill has killed people too. Sheila asks what Bill is talking about. Bill wants Sheila to open up to him. Bill wants Sheila to tell him everything. Strange noises start happening throughout the house. Bill tries to explain them away. Sheila wants to go for a ride up the coast.
Bill cant, he has a business dinner. Bill makes plans for tomorrow. Sheila makes sure Bill leaves before calling Deacon. Sheila thinks Bill knows about them. Sheila knows something weird is going on with Bill. Bill arrives at the FBI facility and meets with Ridge. Bill is ready to put Sheila away for life.
Be sure to catch up on everything happening with B&B right now. Come back here often for The Bold And The Beautiful spoilers, news, and updates.