The Bold And The Beautiful Recap And Spoilers Wednesday, March 22: Steffy Questions Hope, Brooke Defends Ridge, Bill Proposes
The Bold And The Beautiful spoilers for Wednesday, March 22 reveal Sheila Carter (Kimberlin Brown) is still pacing the floor. Ridge Forrester (Thorsten Kaye) wonders why Bill Spencer (Don Diamont) is back. Bill is going to propose to Sheila. Stephen Logan (Patrick Duffy) and Lucy (Linda Purl) arrive at Forrester Creations. Hope Spencer (Annika Noelle) wants to finish their conversation. Ridge believes Bill has lost his mind. Bill explains his reason for proposing.
The Bold And The Beautiful Spoilers – Steffy Forrester Ask The Hard Questions
Steffy Forrester (Jacqueline MacInnes Wood) brings up Hope saying Thomas Forrester (Matthew Atkinson) was hot. Hope is confused by Steffy's questions. Steffy questioned Thomas as well. Hope says he is married and committed to her husband. Steffy wants Hope to be honest about her feelings. Steffy simply wants to know if Hope is attracted to Thomas.
B&B Spoilers – Stephen Logan Confronts Ridge Forrester
The Bold And The Beautiful spoilers indicate Brooke and her father continue to talk about Ridge. Stephen is happy that Brooke and Taylor are friends. Stephen wonders how Ridge feels about this. Stephen figures Ridge is the most surprised at all. Stephen brings up Ridge not being there to protect his family now that Sheila is on the loose. Stephen calls Ridge and he tries to hang up. Stephen keeps talking but Ridge cuts him off so he can hear Bill and Sheila's conversation.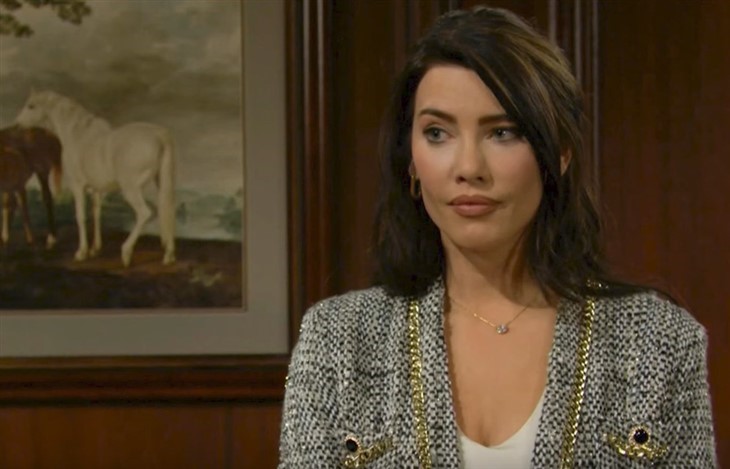 The Bold And The Beautiful Spoilers – Bill Spencer Lays Out His Heartfelt Proposal
Ridge believes Bill has lost his mind. Bill explains his reason for proposing. Bill tells Ridge that he has convinced Sheila that she deserves love. Sheila should buy this. Bill is running out of patience. Ridge says Bill is doing a good thing. Bill says this is the only thing. Bill plans to get the ring on his way home and get a confession. Bill says they can trade that ring for metal bracelets.
Bill arrives home and gives Ridge the thumbs up. Sheila wants to know where Bill disappeared to. Bill says he still has a few tricks up his sleeve. Bill tells Sheila she has given him a second chance as well. Bill loves Sheila. Sheila will never forget that night. Bill has been proving himself to her ever since. Bill moved her into his home. Bill has kept her out of prison.
Bill has distanced himself from his family. Sometimes Sheila doesn't know what Bill is thinking. Bill feels the same about Sheila. Bill has been open with Sheila and he wants her to be able to talk to him about anything. Bill will never leave Sheila. Bill's commitment is 100%. Sheila says she knows that. Bill thinks he has the key to show Sheila she can believe in him and their life together.
Bill tells Sheila that he sees their future and he knows where she belongs. Sheila belongs in that house by Bill's side forever. Sheila has changed Bill's life in so many ways and he wants to change hers as well. Bill pulls out the ring and proposes to Sheila. Bill doesn't want Sheila to get away. Bill wants Sheila to have everything she deserves. Bill wants Sheila to be as one with him. Bill asks Sheila to be his wife.
Be sure to catch up on everything happening with B&B right now. Come back here often for The Bold And The Beautiful spoilers, news, and updates.