The Bold And The Beautiful Spoilers: Steffy Suspicious Of Thomas And Hope Relationship, Will She Snitch To Liam?
The Bold and The Beautiful spoilers and updates tease that Steffy Forrester-Finnegan (Jacqueline Macinnes Wood) will see what she considers inappropriate sparks. She'll become suspicious of Thomas Forrester (Matthew Atkinson) and Hope Spencer's (Annika Noelle) relationship-will she snitch to Liam Spencer (Scott Clifton)?
The Bold And The Beautiful Spoilers – Same Old, Same Old Different?
It seems like this time around it's the same old, same old, but then maybe it's different-Thomas and Hope will create an electric atmosphere and spark together creatively. Where the different twist comes in is Steffy becomes concerned not so much about Thomas being attracted to Hope, but Hope being attracted to Thomas, or maybe a mutual attraction! This tracks back to a conversation that Paris Buckingham (Diamond White) and Hope had months ago, when Hope and Thomas were working on the showstopper.
Paris was talking about Thomas being hot and Hope, not thinking about how it might be perceived, agreed. Steffy had overheard the offhand comment back then and now it comes to her memory seeing Thomas and Hope together now.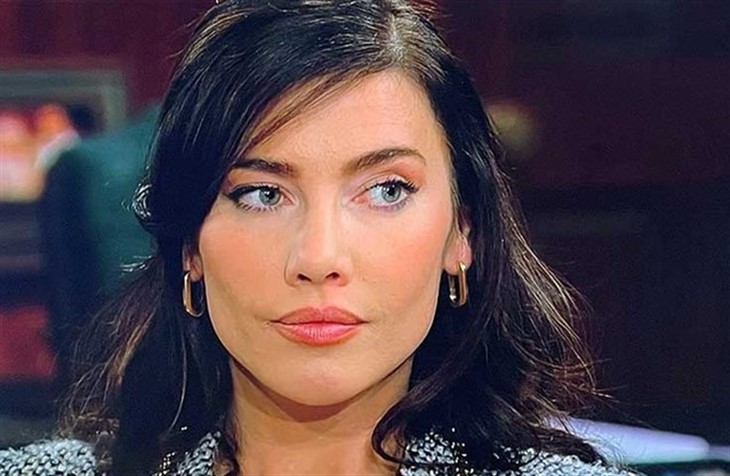 B & B Spoilers – Steffy Forrester-Finnegan Worries About Liam Spencer
Liam's disdain and disagreement over the rehire of Thomas to design Hope's fashion line, meaning he and Hope have to work together, is practically common knowledge. But he has been more concerned about Thomas returning to his old obsession with Hope, not Hope being attracted to Thomas. Since Steffy is taking Hope's interactions with Thomas the wrong way, she could worry Hope's cheating on Liam and snitch to Liam about it. But, this could go either of two ways, Steffy could misunderstand what she's seeing or it may be blatantly obvious and she'll be right on target. Either way, if Steffy talks to Liam about her concerns about Hope and Thomas becoming mutually romantically involved, you can count on trouble in Forrester Creations land.
The Bold And The Beautiful Spoilers – She Kisses Him?
If Hope suddenly develops a crush on Thomas, and Steffy walks in and sees Hope kissing him, she'll be blindsided; that wouldn't be something anyone would expect to see. Maybe it's spontaneous, and they're looking over sales figures and realize Thomas really is saving the day for "Hope For The Future" and it's a last minute Hail Mary. It could be a sight like Hope squealing and jumping up and hugging his neck and kissing his cheek, which could certainly send mixed signals to Thomas.
But Hope kissing Thomas in a blatantly sexual or romantic way would certainly shock everyone, probably including Thomas himself! And that would warrant Steffy warning Liam about what's going on with his wife about her brother.
Be sure to catch up on everything happening with B & B right now. Come back here often for The Bold and The Beautiful spoilers, news, and updates.