The Bold And The Beautiful Recap Monday, September 11: Eric Issues A Warning, RJ Enjoys Designing, Thomas Has An Idea
The Bold And The Beautiful recap for Monday, September 11,2023, indicate that RJ Forrester (Joshua Hoffman) continues to help Eric Forrester (John McCook).
RJ is trying something different, Eric says the design is in RJ's blood. RJ says Eric has taught him a lot. Brooke Logan (Katherine Kelly Lang) and Ridge Forrester (Thorsten Kaye) discuss Hope Logan's (Annika Noelle) love life.
Ridge reminds Brooke of his mother's meddling and how that worked out. Ridge says they are adults and can work this out. Carter Walton (Lawrence Saint-Victor) says Thomas Forrester (Matthew Atkinson) is responsible for his stress.
The Bold And The Beautiful Recap Highlights
Carter tells Thomas how proud Ridge is of him. Thomas and RJ talk about how hard it was to regain Ridge's trust. Carter says it must have been harder because RJ is back.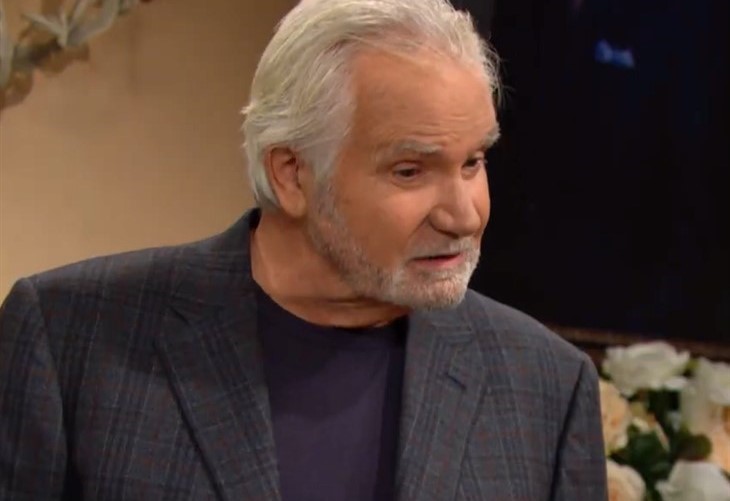 Carter says it is good that RJ and Thomas aren't at odds, that could have been hard on Ridge.
Carter appreciates that coffee. Carter asks if RJ has ever talked about getting into the business. Carter talks about all of the guys who were mentored by Eric. Thomas says they have the design front covered.
B&B Recap – Brook Logan Worried About RJ Forrester
The Bold And The Beautiful spoilers Ridge and Brooke discuss RJ's habits. Ridge thinks that RJ could be the greatest designer yet. Ridge wants Donna to take Eric on a trip or something. Ridge has the stress of the company covered. Ridge says his father was a fashion icon.
Ridge says everything is all good, Eric should go and take it easy. Brooke will go talk to Donna since she was going to see her today anyway. Thomas stops by and looks at Ridge's designs. Thomas wants Ridge to know how grateful he is to be back at Forrester.
Thomas tells Ridge about his conversation with Carter. Ridge is proud of Thomas. Thomas tells Ridge he wants to collaborate with him more. Ridge is worried about Eric. Ridge thinks they have the company covered without Eric.
The Bold And The Beautiful Recap – Eric Forrester Is Determined To Create This Line
Eric continues to help RJ to design these dresses. Eric explains how design works. Donna Logan (Jennifer Gareis) joins Eric and RJ. Eric contributes his happiness to RJ. Donna says it looks like a design studio there. Donna is having art supplies delivered. Eric says Donna is his inspiration.
Eric sends Donna off to amuse herself while he and RJ work. Eric plays piano as RJ works. Donna loves it when Eric plays. Eric says the therapist says this is good for him. Eric wants to have drinks afterward. Donna says she needs to run through the design studio more often.
Eric wants this to be a surprise for Ridge too. Eric tweaks the design after playing the piano. FJ says it is amazing what Eric has done. Brooke comes in and sees them working. Brooke asks what is going on. Brooke says Ridge is going to be so excited.
Eric says they wanted some privacy. Eric says he is doing a solo line. Brooke says that Ridge is the head of Coutour. Eric tells Brooke he is designing a new line with RJ and no one is going to stop him, not even Ridge.
Be sure to catch up on everything happening with B&B right now. Come back here often for The Bold And The Beautiful spoilers, news, and updates.