The Bold And The Beautiful Rumors: Brooke Logan Finds James Warwick In Rome?
The Bold and The Beautiful spoilers and updates tease when in Rome, Brooke Logan (Katherine Kelly Lang) could encounter James Warwick (Ian Buchanan) and convince him to return to LA. Ian and his husband, Antonio Hendricks have been in Rome at the same time Bold and Beautiful has been filming and photos were taken with Katherine Kelly Lang.
The Bold And The Beautiful Spoilers – Coincidence, Or Plan?
As far as Ian and Antonio, they've hit Amalfi, Capri, Naples and Rome on their trip, but Rome is a big, big city. It doesn't seem that Ian, Antonio and Katherine just ran into each other randomly when the photos were taken.
It's possible that they could have been communicating with each other privately and met up, but there could be another reason-Ian's reprising psychiatrist James Warwick?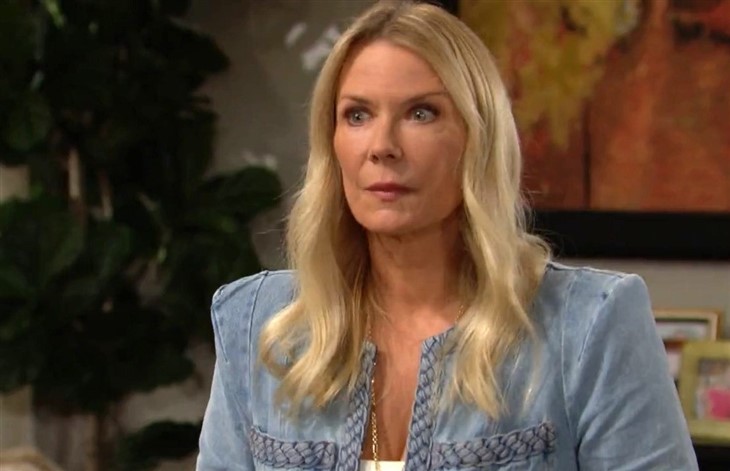 Ian captioned his photo with Katherine "When in Rome" but didn't explain much else. It could be "When in Rome visit with old friends, film some scenes" or anything else. Oddly, Katherine didn't post the shot on her social media-so that could mean she didn't want to leak a surprise return!
B & B Spoilers – Plenty Of Situations James Warwick Could Fit Into
There are plenty of current situations and possibly future ones that Dr. James Warwick could fit into. He was a psychiatrist, a former lover of Taylor Hayes (Krista Allen) who was treating Sheila Carter (Kimberlin Brown) and she seduced him.
They had a daughter together, Mary Warwick (Courtnee Draper) who later changed her name to Erica Lovejoy, and Sheila wants to break out of prison. She couldn't get any cooperation from John "Finn" Finnegan's (Tanner Novlan) lawyer father, Jack Finnegan (Ted King).
If James came back to Los Angeles, perhaps she could convince him to do a psychiatric evaluation on her and get her into a hospital-much easier to escape from!
The Bold And The Beautiful Spoilers – Come Back To LA, My Daughter Needs Help!
While Hope Logan (Annika Noelle) is on this trip to Rome, and Carter Walton, (Lawrence Saint-Victor) Ridge Forrester, (Thorsten Kaye) and Thomas Forrester (Matthew Atkinson) so is Liam Spencer (Scott Clifton).
Steffy Forrester-Finnegan (Jacqueline MacInnes Wood) is there but not Finn-so it's likely a business trip. It may not be feasible for Brooke, and possibly Steffy, to rope James into a forced session with Hope over Thomas, so Brooke might try convincing him to return to LA.
Taylor wouldn't really be an option here since Brooke won't want to tell her Hope is falling for Thomas, they've already been arguing. James may not be the best option either, unless he's fully recovered from his past instability and drug addiction, but for now, as far as Brooke is concerned, he'll do!
Be sure to catch up on everything happening with B & B right now. Come back here often for The Bold and The Beautiful spoilers, news, and updates.